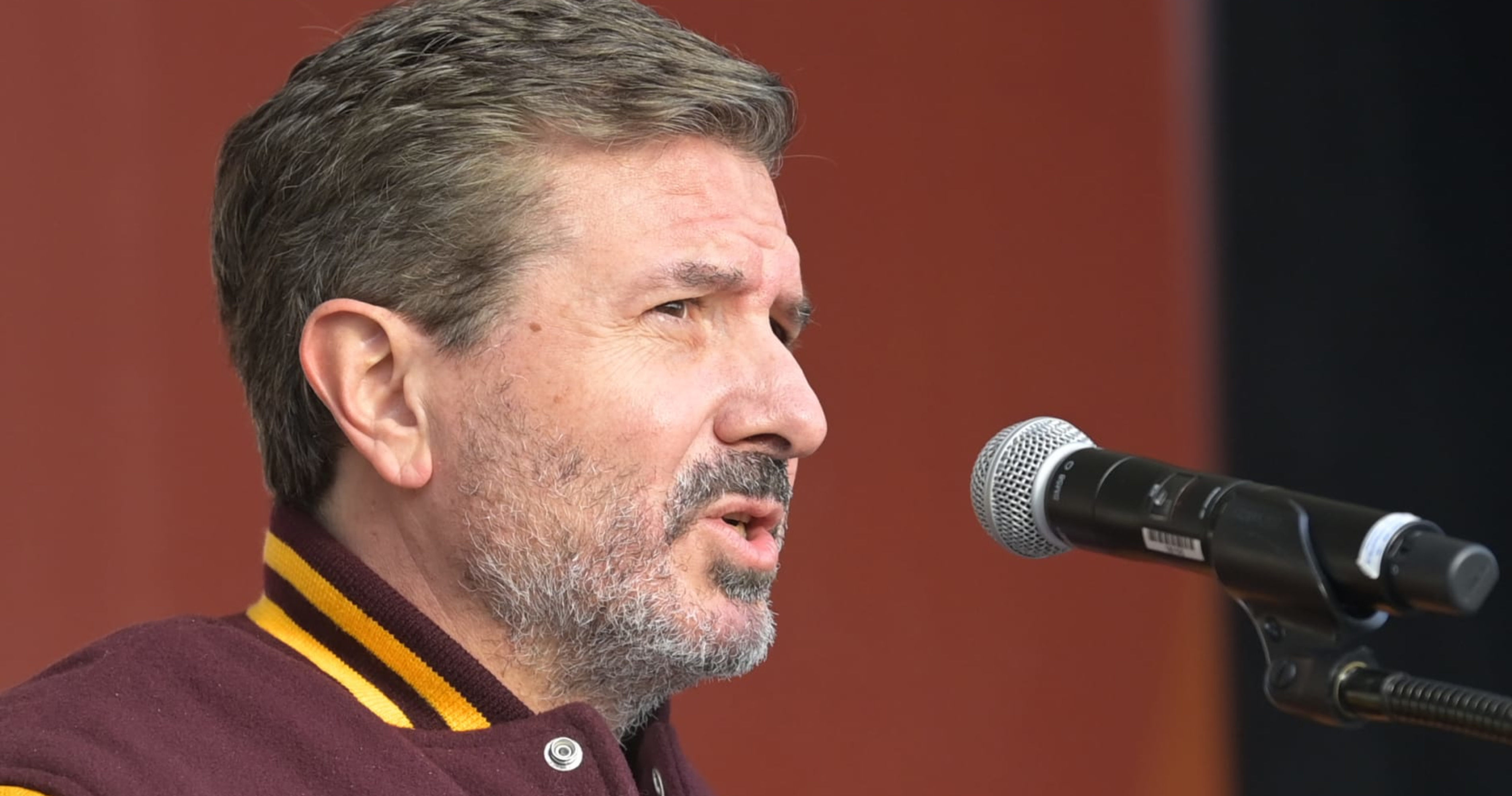 John McDonnell/The Washington Post via Getty Images
NFL owners discussed the potential sale of the Washington Commanders during committee meetings this week in Palm Beach, Florida, though no decision was made on whether to remove Daniel Snyder as the franchise's owner should he refuse to sell, per Mark Maske of the Washington Post.
Snyder and his wife, Commanders co-CEO Tanya Snyder, announced in November that they had hired Bank of America to explore potential transactions involving the franchise.
Amazon tycoon Jeff Bezos, Philadelphia 76ers and New Jersey Devils owner Josh Harris and Houston Rockets owner Tilman Fertitta have been linked as possible bidders should the Snyders considering selling all or part of the Commanders.
Bezos recently hired New York-based investment firm Allen & Company to evaluate a possible bid for the Commanders, Maske, Nicki Jhabvala and Liz Clarke of the Washington Post reported Feb. 23.
However, Snyder has since blocked Bezos from placing a bid, Josh Kosman of the New York Post reported Feb. 24. Snyder reportedly holds a grudge against Bezos, who owns the Washington Post, for the outlet's series of articles alleging a toxic workplace environment within the franchise.
It's unclear if Snyder will change his stance and eventually allow Bezos, who has a net worth of $116.8 billion, to place a bid for the franchise. The Washington Post reported Tuesday that some owners "continue to hope that Snyder can be convinced to include Bezos among the bidders, sell his team voluntarily and leave the NFL without further conflict."
Snyder is not being forced to sell the Commanders, but there has been mounting pressure from around the NFL for him to do so amid investigations into alleged workplace misconduct and financial improprieties.
The United States House Committee on Oversight and Reform is investigating the Commanders for allegedly fostering a toxic workplace environment, and the U.S. attorney's office for the Eastern District of Virginia is running the investigation into the alleged financial improprieties.
The NFL is also amid its second investigation, led by attorney Mary Jo White, into the franchise after initially fining it $10 million and forcing Snyder to give up day-to-day operations for several months.
Indianapolis Colts owner Jim Irsay is one of the NFL's 32 owners who has been outspoken on his opinion regarding the sale of the Commanders, saying in October that he believes "there's merit to remove" Snyder as owner.
"I think it's something that we have to review, we have to look at all the evidence and we have to be thorough going forward, but I think it's something that has to be given serious consideration," Irsay said at the time.
Snyder purchased the Commanders in 1999 for $800 million. The franchise is now valued at $5.6 billion, according to Forbes.
The removal of an NFL owner requires a three-fourths vote from the league's 32 owners.