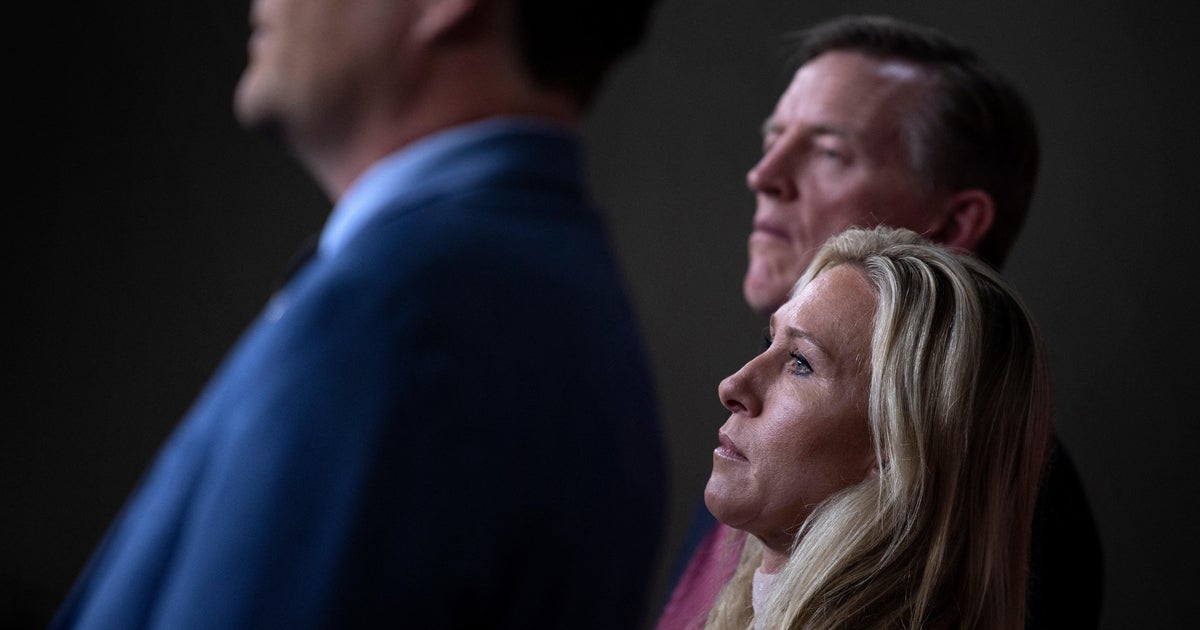 Washington — Once stripped of their committee assignments by the Democrat-controlled House over controversial social media posts, Republican Reps. Marjorie Taylor Greene and Paul Gosar has been installed on House panels by GOP leaders for the new Congress.
Greene, of Georgia, will serve on the Homeland Security Committee, her office confirmed, while Gosar, of Arizona, will return to the Natural Resources Committee, according to a release from the committee. 
Greene issued a statement on Tuesday indicating she would be joining the Oversight and Accountability Committee, although House Speaker Kevin McCarthy told reporters Tuesday that assignments for that committee hadn't yet been chosen yet. The Oversight and Accountability is planning on launching an investigation into President Biden's handling of documents marked classified discovered at his former office at a Washington think tank and his Wilmington, Delaware, home. 
McCarthy told reporters that Rep. George Santos, the embattled New York Republican under scrutiny from federal and local investigators, will be added to the Small Business and Science committees.
Several of Santos's GOP colleagues from the New York congressional delegation have called on him to resign amid growing questions about his professional experience, background and finances. Santos has rebuffed calls to step down, and House GOP leaders have said his future in Congress is up to New York voters.
McCarthy's election to House speaker earlier this month paved the way for top Republicans to begin selecting committee chairs and panel membership. The language of bills gets hashed out in committees, and committee chairs — who are almost always from the majority party — decide which bills to consider. 
During the speaker's election, Greene split from some of her conservative House Freedom Caucus colleagues and was a vocal defender of McCarthy's bid for the gavel.
Asked about Greene's placement on the Homeland Security panel, McCarthy said he thinks it's "great."
When Democrats controlled the House in the last Congress, it held separate votes to remove Greene and Gosar from their respective committees due to incendiary comments they made on social media.
In Greene's case, the House voted to remove her from the Budget panel and Education and Labor Committee after extremist and racist comments she posted to social media before she was elected to Congress surfaced. Greene lost her committee spots just a month after she was sworn in as a House member, and 11 Republicans joined all Democrats in voting to strip the Georgia lawmaker of her assignments.
Gosar, meanwhile, was censured by the House in November 2021 and lost his seats on the Oversight and Reform Committee and Natural Resources panel after he posted an edited anime video to his social media accounts depicting violence against Democratic Rep. Alexandria Ocasio Cortez and President Biden.
Two Republicans — then.-Reps. Liz Cheney of Wyoming and Adam Kinzinger of Illinois —  joined all the House Democrats in voting to punish Gosar for sharing the violent video. 
Zak Hudak contributed to this report. 
Thanks for reading CBS NEWS.
Create your free account or log in
for more features.