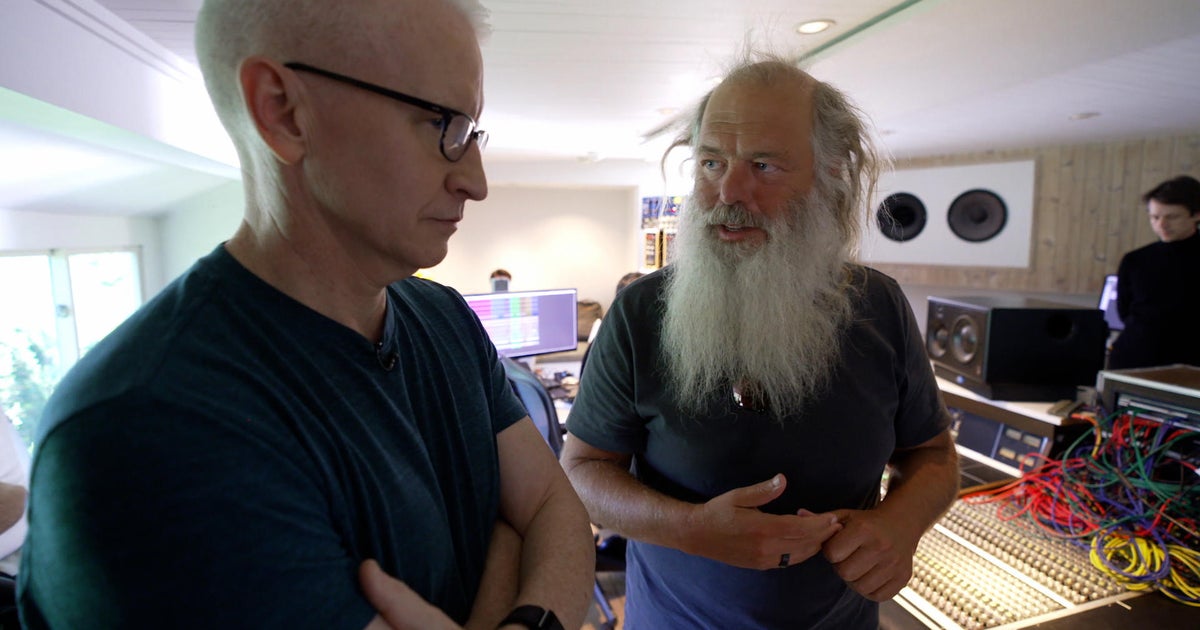 Rick Rubin says he barely plays any instruments and has no technical ability. He just knows what he likes and dislikes and is decisive about it. 
"[I'm paid for] the confidence that I have in my taste, and my ability to express what I feel has proven helpful for artists," Rubin told Anderson Cooper this week on 60 Minutes. 
Cooper and his crew went to Rubin's California studio, Shangri-La, to sit in on a recording session with the legendary producer. They found Rubin keeps things minimalistic. He listens while lying down, barefoot with his eyes shut. And there are no gold records or awards on the walls.
"I used to send them all to my parents," Rubin said. "And I don't know where they are now. It's a distraction. If you start thinking about doing something to achieve that, then you're not focused on making this beautiful thing. It undermines the purity of the project."
That mindset goes hand in hand with his producing philosophy. Rubin has referred to himself as a reducer, instead of a producer.
"I like the idea of getting the point across with the least amount of information possible," Rubin said.
"And that's what you're doing in a recording studio?" Cooper asked. "You're listening to music, to sound, and trying to strip it?"
"Just to see what's- what is actually necessary," Rubin said. "Getting it down to that essence to start with is really helpful in understanding what it is."
What is necessary for Rubin: feeling.
"I'm listening to the feeling," Rubin said. "My body's moving. I feel that melody awaken something in me. There's something familiar about it, but I don't think I've heard it before. The feeling of familiarity is a good feeling."
Rubin is now sharing what he's learned in a book, "The Creative Act: A Way of Being," out this week. It's his guide to harnessing creativity – something he figured out how to do 40 years ago at New York University. While he was a student there, Rubin, with music manager Russell Simmons, launched Def Jam Recordings. The label was defined by the new hip hop sound Rubin was hearing at clubs every night.
"It wasn't made by people who went to the music conservatory," Rubin said about the genre, at that time still in its infancy. "It was made by kids who felt something."
By his senior year, Rubin was working with Run-DMC, the Beastie Boys, and a teenage LL Cool J. And after Rubin graduated, Def Jam landed a seven-figure distribution deal with Columbia Records.
Since then, Rubin's become maybe the most sought-after producer in American music. He left Def Jam in 1988, but has continued working with hip-hop acts while also producing for artists ranging from Johnny Cash to Metallica to Tom Petty to Kesha.
"Working with him has been genuinely life changing," Kesha said about Rubin. "I was writing a song and I couldn't articulate what I needed to say. And he was like, 'Go home and write a full essay about everything you need to say until you can't write anymore.' And then the song kinda started forming itself."
Making music is, of course, a business, but no matter who he's working with, Rubin insists, for him it's always been a deeply emotional pursuit.
"We're trying to tap into a feeling," Rubin said. "We're trying to tap into something that makes you wanna lean forward and pay more attention. And I'm giving cues to look for in yourself because it all has to do with the artist."    
"And you don't want somebody who– who's listening to music to think, 'Oh. That's a Rick Rubin record?'" Cooper asked.
"No," Rubin said. "I want them to say, 'This is the best thing I've ever heard,' and not know why."
Thanks for reading CBS NEWS.
Create your free account or log in
for more features.