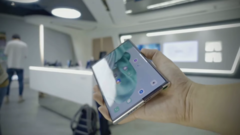 Smartphones that can convert into phablets or even tablets without the need for a hinge may once have been thought to be the trend that would leave devices such as the Samsung Galaxy Z Fold4 behind without delay. However, according to the latest industry leaks, rollables will fail to overtake foldables in the near future after all, as OEMs struggle to solve some of the greater manufacturing and durability problems implied by the newer form-factor.
OPPO's X 2021 prototype unveiling may have sparked hopes that the OEM might soon provide a viable alternative to devices such as those of the Samsung Galaxy Z Fold series that, while offering the advantage of expandable screen real estate, still entailed the drawback of carrying the equivalent of a double-thickness smartphone around when closed.
However, as we all know, OPPO broke down and released a Find N foldable instead, and even a second-gen N2 after that. Now, the eminent leaker Digital Chat Station has apparently brought up some good points as to why this happened, and why rollables have yet to take over as the latest premium personal device form-factor to date.
OEMs such as LG have allegedly found that the main Achilles heel of the average rollable is in its unique mechanical alternative to folding and unfolding. Making a flexible display extendable instead may make it much less resilient and long-lived in general, which, as it may be in motion that much more often, makes sense.
In addition, their frames and moving parts still render rollables much less water- and dust-resistant compared to foldables, not to mention conventional smartphones.
Finally, their much more fragile screens may simply be at greater risk of warping or even tearing with increased rolling cycles – the equivalent of the dreaded crease for modern-day foldables. This, then, may be why some companies suggest folding and rolling should be combined in the same device.
Buy a Galaxy Z Flip4 on Amazon
Deirdre O'Donnell – Senior Tech Writer – 5940 articles published on Notebookcheck since 2018
I became a professional writer and editor shortly after graduation. My degrees are in biomedical sciences; however, they led to some experience in the biotech area, which convinced me of its potential to revolutionize our health, environment and lives in general. This developed into an all-consuming interest in more aspects of tech over time: I can never write enough on the latest electronics, gadgets and innovations. My other interests include imaging, astronomy, and streaming all the things. Oh, and coffee.
Deirdre O'Donnell, 2023-01-23 (Update: 2023-01-23)