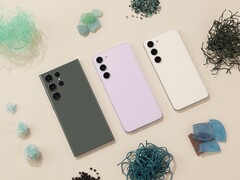 Details of the Samsung Galaxy S23 and S23+ camera hardware have now been revealed following the flagship series' debut last week. While the two phones fail to get new main cameras, two of their four snappers do get upgrades, with the most notable seemingly being the selfie camera.
Both the Galaxy S23 and its bigger S23+ sibling maintain the same main camera used on last year's S22 and S22+, the 50 MP ISOCELL GN3. That's nothing new, as Samsung tends to use one main camera sensor for two generations. Either way, the GN3 is a 1/1.56-inch sensor, making it smaller than the main cameras on most rival flagships, bar a few like the iPhone 14 and iPhone 14 Plus.
Like the Galaxy S23 Ultra, the S23 and S23+ get new ultra-wide-angle snappers, moving from the IMX563 to the 1/2.55-inch IMX564. Likely an incremental upgrade, then. On the zoom end, the S23 and S23+ retain the same 10 MP S5K3K1 from last year's phones beneath their telephoto lenses. The 1/3.94-inch S5K3K1 seems to be a variant of the S5K3J1 the Galaxy S21 Ultra used for zoom, with the S22 Ultra and S23 Ultra both utilizing an entirely different sensor for zoom: the IMX754. The S5K3K1 is also used as the Xiaomi 13's telephoto shooter.
Interestingly, it appears the Galaxy S23 and S23+ get the same selfie camera upgrade as the S23 Ultra. The two previous generations both came equipped with worse selfie cameras than their Ultra siblings, but that seems to have changed this year, with the S23, S23+, and S23 Ultra all seemingly sporting the same 12 MP S5K3LU. The S5K3LU already seems to be a solid upgrade on the 40 MP S5KGH1 used on the S22 Ultra, and should be an even more noticeable upgrade when compared to the 10 MP IMX374 on the S22 and S22+.
Ricci Rox – Senior Tech Writer – 2544 articles published on Notebookcheck since 2017
I like tech, simple as. Half the time, you can catch me writing snarky sales copy. The rest of the time, I'm either keeping readers abreast with the latest happenings in the mobile tech world or watching football. I worked as both a journo and freelance content writer for a couple of years before joining the Notebookcheck team in 2017. Feel free to shoot me some questions on Twitter or Reddit if it so tickles thine fancy.
Ricci Rox, 2023-02- 5 (Update: 2023-02- 5)