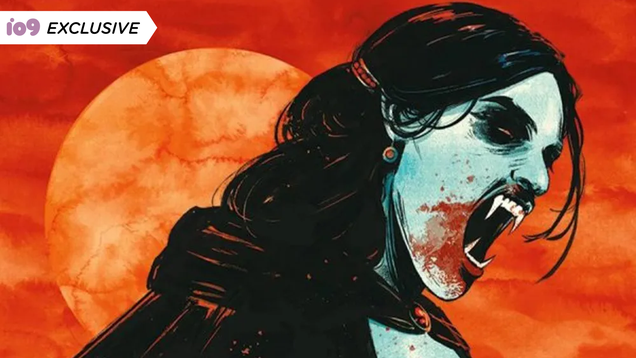 What's better than a tale of vampiric horror? A tale of old-timey vampiric horror, and one of the hunter becoming the hunted—which is right where Tim Seeley, Aaron Campbell, Jim Terry, and Triona Farrell's West of Sundown happily establishes its story of 19th century terror. Want to whet your appetite? Come read the first issue right here on io9!

Set in the 1870s, Vault Comics' West of Sundown follows the mysterious Constance Der Abend and her assistant, Dooley O'Shaugnessy—who are none other than an immortal vampire and her servant, trawling the streets of New York to enact justice… and satiate Miss Der Abend's perpetual hunger.
But when monster hunters track down Constance's home and destroy her supply of ancestral soil—the sacred earth that allows vampires to peacefully sleep and restore themselves—she and Dooley must go on a long and dangerous journey to New Mexico to reclaim more… and learn what it's like to be hunted as they once did themselves.
Check out a preview of West of Sundown #9 below, written by Seeley and Campbell, with art by Jim Terry and colors by Marissa Louise, and lettering by Crank. Then, click through to see where Constance and Dooley's story began in the complete first issue of the series!
West of Sundown #9 hits comic book stores tomorrow, March 9. A collected first volume of the series releases later this month on March 22.