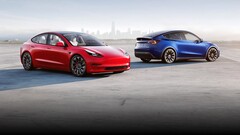 After two years of rampant increases, Tesla is now beginning to directly lower the price of its bestselling electric vehicles in the US, too. The Model 3 and Model Y price cut move follows a similar global pattern, especially in China where the Model 3 price was recently reduced by the whopping 14%.
While Tesla China said that lower production costs are behind the up to 14% Model 3 and Model Y price cuts there, there is no Tesla PR department in the US to announce what's behind the even more aggressive, up to 31% with subsidies price reduction of its bestselling cars. One of the reasons, however, besides softening demand, could be that now some Model Y trims would qualify for the federal tax credit subsidy bracket.
Just when we learned that Tesla has become the top luxury automaker in the US last year, the company lowered the Model 3 and Model Y price for the first time in quite a while, after two years of unchecked hikes that Elon Musk said has brought the tags to "frankly embarrassing" levels.
Here's list of the new Tesla Model 3 and Model Y prices in the US:
Model Y Long Range price: $45,990 with tax credit (31% reduction)
Model Y Performance price: $56,990 (19% reduction)
Model 3 RWD price: $36,490 with tax credit (22% reduction)
Model 3 Performance price: $46,490 with tax credit (26% reduction)
The Model X and Model S also got price reductions, with the top Model S Plaid now starting from $114,990, while the Model X Plaid now costs $119,990. Needless to say, these sums are still way above the federal government new EV subsidy threshold, so buyers don't get any tax credit discounts for them.
Besides the US, Tesla also undertook price cuts across Europe, with the base Model Y RWD that is not sold in the US down the whopping 17% in Germany before any subsidies. In short, after informing that it doesn't do leases or direct price cuts and has plenty of demand just a few months ago, Tesla is done with the roundabout price reductions that saw it offer subsidy-matching price "adjustments" and free Supercharger miles last month.
Needless to say, the wide-ranging deep price cut move may have spooked its investors and Tesla stock is down again in pre-market trading. Tesla missed its self-imposed delivery goal last year, and this round of price reductions could allow it to catch up in sales volume, while angering recent buyers who would now learn that they paid $13,000 more for a Model Y LR than it costs today.
Daniel Zlatev – Tech Writer – 545 articles published on Notebookcheck since 2021
Wooed by tech since the industrial espionage of Apple computers and the times of pixelized Nintendos, Daniel went and opened a gaming club when personal computers and consoles were still an expensive rarity. Nowadays, fascination is not with specs and speed but rather the lifestyle that computers in our pocket, house, and car have shoehorned us in, from the infinite scroll and the privacy hazards to authenticating every bit and move of our existence.
Daniel Zlatev, 2023-01-13 (Update: 2023-01-13)