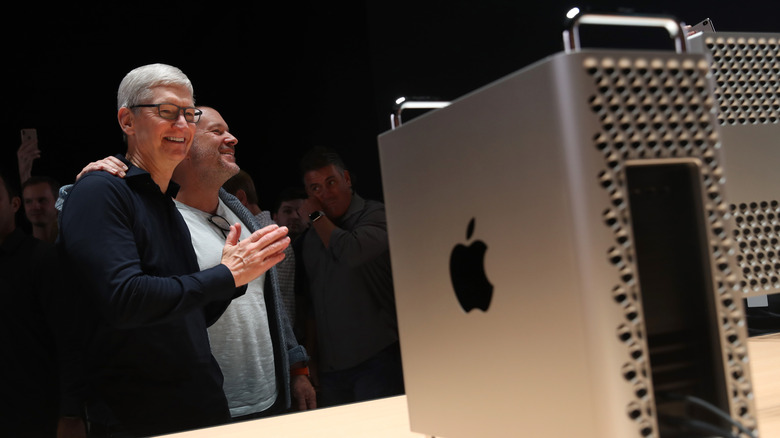 Justin Sullivan/Getty Images
The next Mac Pro, lined up for a 2023 release, is shaping up to be a rather unexciting machine, at least based on the latest leaks. Bloomberg reports that the model will feature the same "cheesegrater" chassis as its predecessor, which isn't necessarily a bad thing, but the innards will be disappointing for those eagerly waiting for a next-gen iteration. The Mac Pro update will reportedly draw power from the in-house M2 Ultra processor, the successor to the M1 Ultra chip fitted inside the Mac Studio. Yes, it seems very likely that the boundaries between the Mac Studio and Mac Pro will blur unless Apple pulls off something wild in terms of upgrades with the M2 Ultra.
There were rumors that the next Mac Pro will feature a super-powered chip called the M1 Extreme, which was reportedly going to pack a staggering 48 CPU cores and up to 152 GPU cores. Apple reportedly killed those plans, but that's not all. The latest leak claims that in addition to the relatively minor update to the Mac Pro model, Apple will get rid of one key user-upgradeable feature that likely won't sit well with buyers.
The next Mac Pro may be a tad disappointing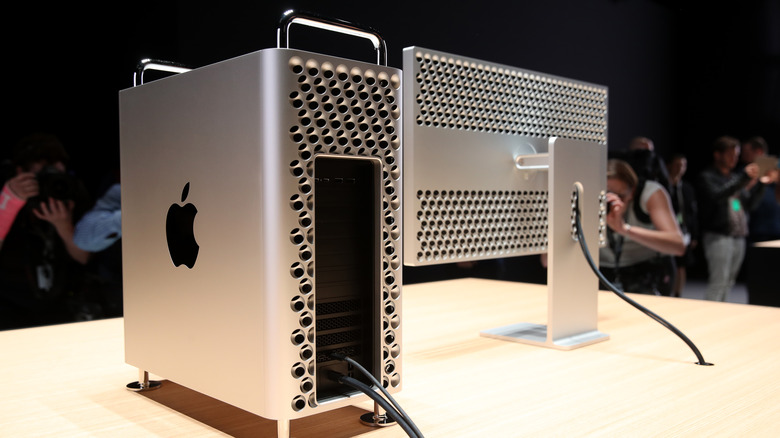 Justin Sullivan/Getty Images
The base model of the 2019 Mac Pro started at $5,999, which offered a modest 32 GB of RAM, an 8-core Intel Xeon CPU, and a paltry 256 GB of SSD storage. The top-of-the-line configuration offers a 28-core Intel Xeon W processor, a dozen RAM sticks of 128 GB capacity each totaling 1.5TB, 8TB of SSD storage, and a pair of AMD Radeon Pro Vega II Duo graphics cards (via Apple). Adding the $2,000 Afterburner card and the mouse-keyboard combo, the total bill jumped to around $53,000.
Let's talk about the RAM situation on the current-get Mac Pro. You can cram up to 1.5 TB of RAM inside this machine. Assuming Apple doesn't make a downgrade on the RAM capacity, we're looking at a very expensive successor. Apple charges handsomely for RAM and SSD upgrades on its MacBooks, and it isn't hard to imagine how quickly the price for the upcoming Mac Pro will go up when you add more memory, storage, and GPU cores to the M-series silicon inside its chassis. 
Of note, the ability to upgrade the RAM capacity on your own, which is available on the Intel-powered Mac Pro, is going away, at least according to the leak. If true, you will pay quite a premium for more RAM, because the memory channels are fused to the main M2 Ultra motherboard. Bloomberg's report also claims that nothing particularly exciting will happen this year regarding the Apple Watch, iPad, and MacBook Pro lineup, and neither iOS nor iPadOS will supposedly get any eye-catching upgrades.