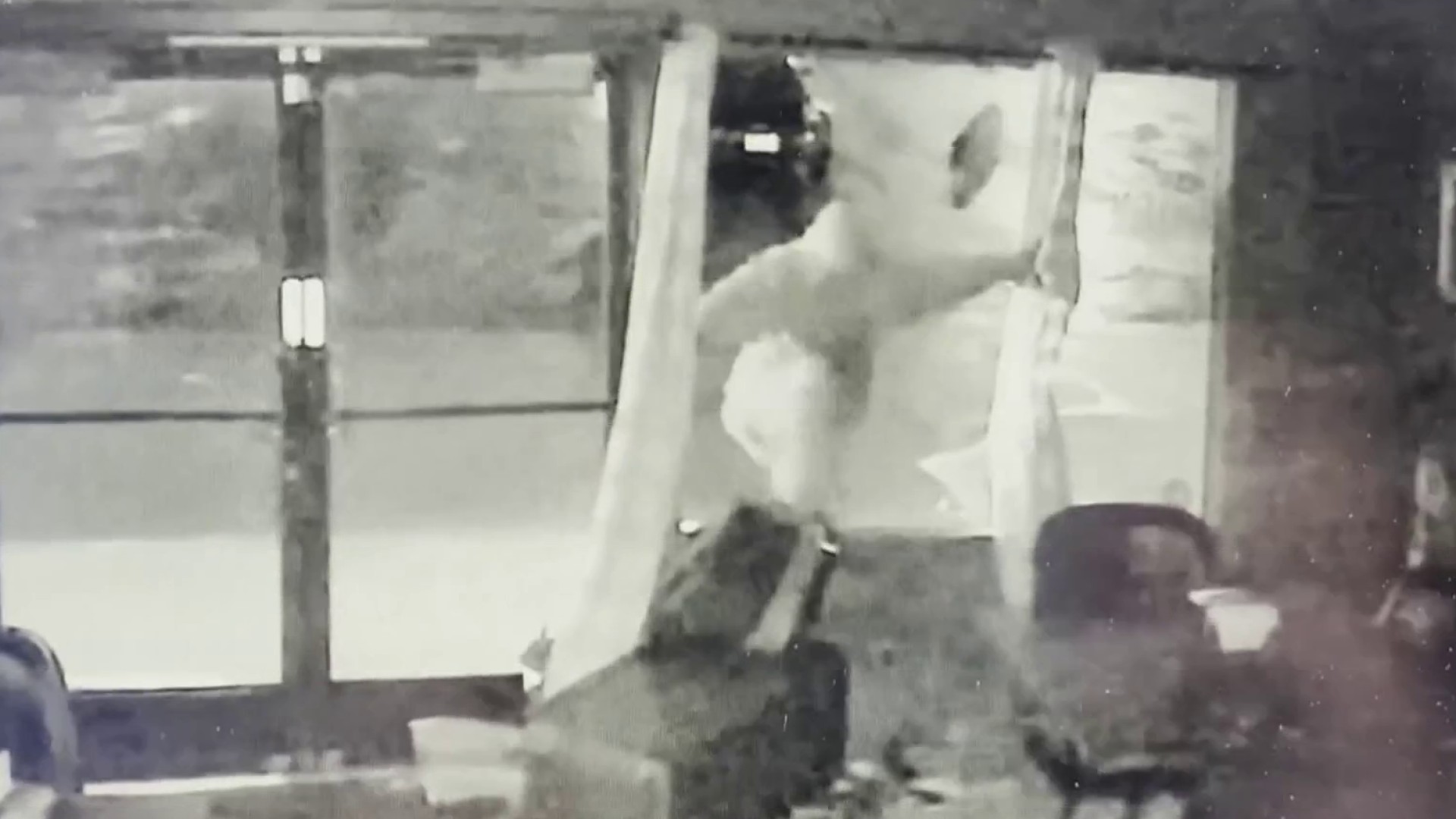 Dramatic new video Wednesday shows a pair of thieves who are stealing ATM's.
Surveillance video shows them using a truck to pull the money machines out of businesses in the Inland Empire.
It was Sunday around 10: 45 p.m. when two men in a white pickup truck were using tie down straps to pull open the doors at Royal Tattoo in Perris.
Once the doors are open they head straight for an ATM that's bolted to the floor.
The truck pulls the ATM right out, seemingly with ease.
The burglars throw it into the back of the truck and take off.
"I got cameras right there, I got cameras in the back," said Rene Camargo, the owner of Royal Tattoo.
Camargo watched the burglar in real time on his phone.
He lives five minutes away so he quickly drove to his tattoo shop and confronted the intruders.
"I pulled up in front of them and they slammed the truck into the front of my truck," Camargo said.
Camargo says he then chased them onto the 215 Freeway but lost them when they went the wrong way on the freeway.
He then found out, possibly the same thieves also hit other nearby businesses.
"They just hit Papa Joe's in Moreno Valley," Camargo said.
The surveillance video from that break in at Papa Joe's Sports Bar shows the crime around 4: 00 a.m. Monday.
Burglars in a white truck used tie down straps to wrap an ATM at the front door and within seconds they pull it out of the window.
They drag it into the back of the truck with the license plates covered and eventually drive off.
"They're after the ATM's," said Anthony Romo, from Uppercuts Barber Shop.
Romo owns the barber shop in Loma Linda.
He believes the same thieves targeted his business Friday night but couldn't get in.
Instead they came back two days later and finally broke in. Only to be surprised at what they didn't find.
"Eventually they walked in to a candy machine thinking it was an ATM," Romo said.
Romo says the burglars collected their straps and left leaving minor damage to his front door but he says other barber shop owners in Colton and Rialto have also been hit.
"You feel violated, it's unfortunate I wouldn't want this to happen to anybody else," Romo said.
Camargo believes the ATM that was stolen from his tattoo shop probably had about $5,000 inside of it.
If you have any information about the suspects call your local police or sheriff's department.