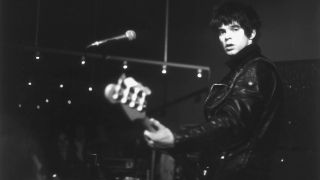 (Image credit: Michael Putland/Getty Images)

Jet Black and Dave Greenfield might be gone but The Stranglers – the band and their influence – are unstoppable. Now in their 50th year, their impact on the world of music and bass playing has been huge. Here was a British punk band who could take the Burt Bacharach-Dionne Warwick hit Walk On By and turn it into a 6-minute freakout inspired by The Doors, who had a hit all over the world with a sweet song about heroin written in waltz time (Golden Brown), who stood separate from the punk pack – proudly European, musically eclectic, boldly innovative – but were nevertheless as tough as titanium.
And in Jean-Jacques Burnel they had one of the most original and influential bassists of the era: a classical guitarist who turned his skills to creating basslines so brutal they'd give you a black eye, with a bruising, distorted sound that still resonates to this day. In this archive interview he looks back over some selected career highlights.
---
The Beginning
Jean-Jacques Burnel: "It all started with me giving a lift to a hitch-hiker who subsequently led me to Hugh [Cornwell, singer/guitarist] and Jet Black [drummer], and Hugh coming around to my little bedsit one day and saying, 'Let's form a band'. It just so happened that I played a lot of classical guitar at the time – that's my main instrument – and he had a drummer and needed a bass player. He had a bass, a Fender, which he sold me for £35 and that was my first bass.
"I knew about melody but I didn't know much about bass playing, so I just made the rules up as I went along. Did that develop my style? Definitely, 'cos I hadn't listened to many bass players before that, although I was aware of Jack Bruce."
Peaches (single, 1977)
"Bass players in those days were in the background – they didn't dominate the musical or the scenic landscape. It's changed a lot: the bass parts are bloody important now. Those three notes in Peaches: you do those three notes and it's instantly identifiable.
"Hugh and I used to have a 500-watt PA. We used to rent it out and once we were asked to augment a sound system in Acton. We were the only white guys there. They had all these guys toasting over just bass, and I came out of that and my mind was burnt. I'd never heard bass so dominant, and I thought, 'I'm going to write a song like that' and the next day I wrote Peaches. But it didn't turn out as a reggae piece and I couldn't work out why – we didn't put the snare in the right place for a start. Some of our stuff was kinda reggae guitar on the offbeat – but we never had the snare on the third beat which a lot of reggae does."
Developing His Style
"There was a lot of friendly rivalry between me and Hugh – well at first it was friendly – but Dave [Greenfield, keyboards] had a solo instrument and Hugh had a solo instrument and I wanted to be a solo instrument as well. So sometimes all four of us would be doing solos and we'd just sorta meet somewhere. 
"On some songs, Jet's doing completely off-the-wall stuff, and so is Dave, we're all out of time, I'm doing lots of high notes, but it all gels at some point. Walk On By got longer and longer just because we were jamming over it. We added to it over two years. It was just a good way of developing – and it was a bit of a rip-off of The Doors' Light My Fire."
Songwriting
"There were two ways of doing it: if I wrote on guitar it would be completely different from when I wrote on bass. If I was doing the bass to a Hugh song, then I could do much fancier stuff than if I was singing as well. Sometimes I'd do bass root note stuff or eighths when I was singing as opposed to when I wasn't. 
"To be honest, I'm not really a bass player. I've scammed people all this time. If you plow your own furrow, then you're the master in that area and you can't really be compared to other people."
That Early Bass Sound
"I didn't like the bass sound people were using in those days, but I liked that distortion – sometimes you couldn't even tell if it was a bass guitar. It was just so noisy on stage. Maximum noise. The sound on those first two albums was the result of not fucking about with any of the equalization, just full-on treble on the guitar, flat on the amp and, er, a bust speaker. We didn't know: it'd been torn for ages and was flapping about making real distortion. So the first two albums – which were recorded at virtually the same time – had the same fucked, farty speaker. 
"It was great on radio, 'cos it was compressed to fuck. These days I like a lot of bottom end, which that old sound never had."
The Gospel According To The Meninblack (album, 1981)
"I thought it [a concept album in which The Bible is re-written by aliens – or something] was a work of genius, but no-one else did. Not even our fan base. It made the top ten but it was slagged off universally. It's still modern-sounding. We ruined ourselves doing it. We spent every last penny we had recording it in different places: Munich to get that Georgio Moroder disco sound for Two Sunspots and Thrown Away. We were doing tape loops and everything. I was doing the bass across six tracks then. I was using 10's, 15's and DI across three tracks, and then playing the parts again and putting both parts together.
"It's quite a chunky bass sound. I just wanted to be bigger and better. We were experimenting a lot. And it also coincided with an awful lot of drug taking. I mean, drugs as heavy as you can get. The heaviest. So the whole thing was a kind of dark period."
Golden Brown (single, 1982)
"The record company thought we were finished after the Meninblack album. All the records had gone gold up until then, and that was just universally slated so the record company was starting to think short-term. We insisted on doing Golden Brown as a single and they couldn't see it. They said, 'It doesn't sound like a punk record, you can't dance to it, and it doesn't sound like the Stranglers'. 
"So they released it just before Christmas, thinking it would be buried and it just ran and ran and ran. All over the world. And just after that they wanted us to renegotiate our contract. We said: 'Fuck off'."
Feline (album, 1983)
"With Feline we tried to marry loads of different influences. European influences north and south. The south: represented by Spanish guitars, semi-tone changes, minor keys. Arabic, Moorish, Spanish influences. Catholic, y know? The north was represented by synthesizers, electronica: sorta Protestant, industrial. Bass-wise, I stopped using the Fender. I was tired of people talking about the bass sound of the Stranglers, I just wanted to blend in. I used a dodgy Yamaha and it didn't last very long. I punch my guitars a lot just to get them to resonate – you do a chord and then hit the body. This particular one, I hit it and it just fell apart."
The Paul Simonon 'fight'
"We did this gig at Dingwalls, for the American Bi-Centenary, with the Ramones and the Flamin' Groovies. I never drank in those days but someone had given me a bottle of wine. Back then, Paul Simonon had this kinda nervous tick where he'd kinda spit through his teeth and as he walked past I thought he was spitting at me… So I just thumped him. 
"He fell back onto Steve and Paul from the Pistols who spilled their drinks, so they all piled on top of me and the rest of the Stranglers were behind me and before we knew it we were thrown out in the courtyard. There was the Stranglers and a few mates on one side and the Sex Pistols, the Clash, the Ramones and Chrissie Hynde on the other side, and Paul and me nose to nose. Nothing happened – it was just kids fighting, really, pushing each other going, 'Say you're sorry', 'No, you'."
The bass players of punk
"Well, none of them were as good as me, that's for sure! But some of them did great stuff. Peter Hook did some great stuff – I mean, how can a guy play with his bass on the floor? That amazes me. Captain Sensible was a pretty good bass player. Jah Wobble was alright – nice style, I'll give him that – and Bruce Foxton was fine except he always made me wanna go, 'Look at the audience, you c**t!'
"Some people hide behind their instrument, looking at the fretboard all the time. Some just look at their shoes or hide behind their hair… There was loads of good bass players, but none of them could approach me in speed – listen to Mr Modesty! – or had the variety, lyricism and melody. [He laughs] So there."
First published in Bassist magazine, November 1999.  The Stranglers are touring. For dates, visit their website.
Thank you for reading 5 articles this month*
Join now for unlimited access
US pricing $3.99 per month or $39.00 per year
UK pricing £2.99 per month or £29.00 per year 
Europe pricing €3.49 per month or €34.00 per year
*Read 5 free articles per month without a subscription
Join now for unlimited access
Prices from £2.99/$3.99/€3.49