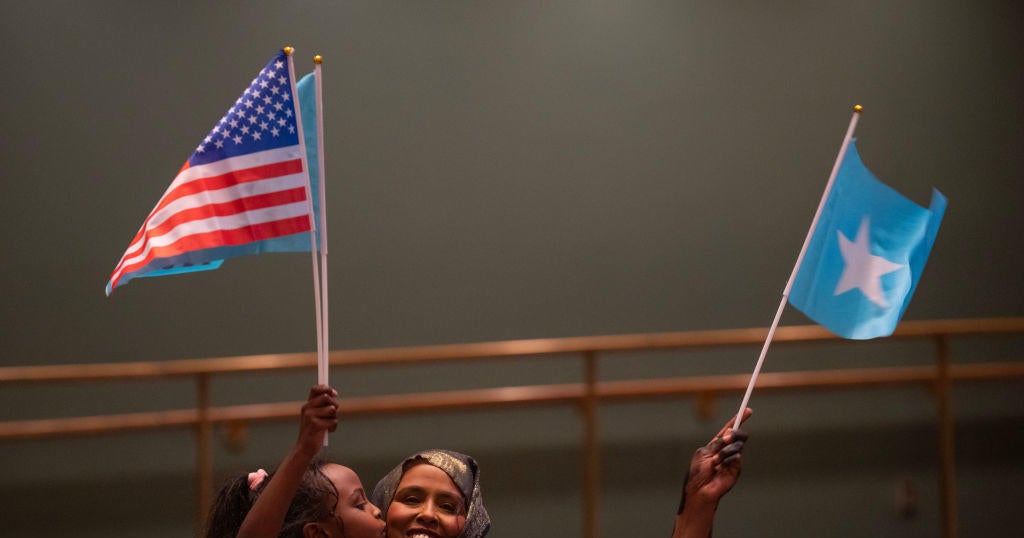 Washington — The U.S. on Thursday made more than 2,000 Somali immigrants eligible for work permits and deportation deferrals under a humanitarian program President Biden has used to extend temporary legal status to hundreds of thousands of immigrants from countries beset by war, violence and other crises.
Homeland Security Secretary Alejandro Mayorkas said he was expanding and extending the Temporary Protection Status (TPS) program for Somali immigrants already living in the U.S. because of the "ongoing conflict and the continuing humanitarian crisis" in Somalia.
The easternmost country in Africa, Somalia has experienced decades of armed conflict, suffocating poverty and poor governance. In recent years, the Somali government has struggled to contain al-Shabab, a terrorist group aligned with al Qaeda that has carried out brutal attacks against civilians, including car bombings in October that killed more than 100 people. Millions of Somalis are also facing hunger fueled by droughts.
The Biden administration said those conditions prevent Somalis from "returning safely" to Somalia.
"Longstanding conflict, along with natural disasters and disease outbreaks, has worsened an already severe humanitarian crisis," the Department of Homeland Security (DHS) said in a statement Thursday. "Somalia continues to be affected by terrorism, violent crime, civil unrest, and fighting among clan militias." 
DHS officials said Thursday's announcement will allow roughly 430 Somalis to renew their work permits and deportation protections and open the TPS program to an additional 2,200 Somali immigrants who have been in the U.S. since Jan. 11. The program is set to run through September 2024.
First established by Congress in 1990, TPS allows the federal government to shield certain immigrants from deportation and let them work in the country legally, if their home countries are plagued by armed conflict, natural disasters and other humanitarian crises.
While it allows immigrants to work and live in the U.S. legally for a determined period of time if they pass background checks, TPS does not make beneficiaries eligible for permanent legal status.
Departing from the policies of the Trump administration, which sought to end TPS programs, the Biden administration has used the authority broadly, invoking it to make hundreds of thousands of immigrants from Afghanistan, Cameroon, Ethiopia, Haiti, Myanmar, Ukraine, Venezuela and other countries eligible for the temporary deportation protection.
The Biden administration also recently agreed to extend the work permits and deportation protections of more than 300,000 immigrants from El Salvador, Nicaragua, Nepal and Honduras enrolled in TPS programs that the Trump administration moved to terminate.
While federal courts blocked the Trump administration from ending those programs, they could be discontinued as early as 2024 unless the Biden administration issues another extension or creates new TPS designations for the affected countries. 
Thanks for reading CBS NEWS.
Create your free account or log in
for more features.