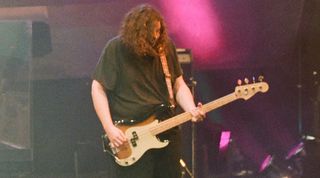 (Image credit: Margaret Norton/NBCU Photo Bank/NBCUniversal/Getty Images)

Van Conner, bassist and co-founder of the legendary grunge band Screaming Trees, has died at the age of 55.
Gary Lee Conner, Van's brother and former Screaming Trees bandmate, confirmed the news in a Facebook post (opens in new tab), saying his brother died of pneumonia.
"Van Conner – bassist and songwriter of Screaming Trees – died last night of an extended illness at 55," Gary Lee Conner wrote (opens in new tab). "It was pneumonia that got him in the end. He was one of the closest friends I ever had and I loved him immensely.
"I will miss him forever and ever and ever."
With Gary Lee, drummer Mark Pickerel and vocalist Mark Lanegan, Conner formed the Screaming Trees in Ellensburg, Washington in the mid-1980s.
Screaming Trees' 1986 debut album, Clairvoyance, caught the attention of on-the-rise indie label SST Records, which soon signed the band to their rapidly expanding roster. 
The quartet's brooding, loud and psychedelic – but tuneful – sound was driven in large part by the younger Conner's fluid but powerful low-end work, and fit perfectly into the rising tide of grunge.
By 1990, the band had signed with a major label, and, just a couple of years later, would find national success.
Propelled by the rock radio hit Nearly Lost You, Screaming Trees' 1992 album, Sweet Oblivion, went on to sell 300,000 copies. Around that same time, the band also appeared – at the request (opens in new tab) of Kurt Cobain – at the 1992 Reading Festival, an occasion that would go down as one of the most legendary rock festivals of the 1990s. 
However, the band never again reached the success of Sweet Oblivion, and recorded their last album, Dust, in 1996, before breaking up in 2000.
After Screaming Trees' breakup, Conner worked as a session musician and formed another band (opens in new tab), Valis, with another one of his brothers, Patrick. He released a solo album titled Coming Back Again in 2018.
In 1990, during a period of Screaming Trees inactivity, Conner also served as a touring bassist (opens in new tab) for Dinosaur Jr. 
Conner's death comes less than one year after that of his former bandmate, Mark Lanegan. 
"Let us lower the flannel flag to half-mast while we celebrate the life of my dear friend and bandmate, Van Conner, who crossed over to the other side early this AM," wrote Screaming Trees drummer Mark Pickerel on Twitter (opens in new tab). "Hearts are heavy, as we're just a year shy of the anniversary of fellow member Mark Lanegan's untimely departure."
Thank you for reading 5 articles this month*
Join now for unlimited access
US pricing $3.99 per month or $39.00 per year
UK pricing £2.99 per month or £29.00 per year 
Europe pricing €3.49 per month or €34.00 per year
*Read 5 free articles per month without a subscription
Join now for unlimited access
Prices from £2.99/$3.99/€3.49