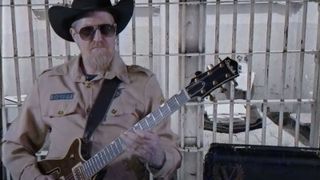 (Image credit: Victory Amps)

Mastodon guitarists Brent Hinds and Bill Kelliher recently endorsed UK amp manufacturer Victory. The news has now been followed by a video ad from the brand in which the guitarist takes on the role of 'Super Sheriff' Dirty B. Hinds and arrests local players for tonal crimes.
While you'd be forgiven for thinking Hinds rates pretty low on the list of metal players who'd find work in the forces, he takes on the role with some gusto. And also a taser.
As such, the COPS-style parody clip shows him rolling around Atlanta in his Sheriff Hinds County vehicle, confiscating amps from bewildered guitarists and tackling "audio perverts", complete with voiceover. Choice sample: "The perp realises he's getting the harshest punishment of all – listening to a total stranger dick around on guitar."
Usually, Sheriff Dirty B. Hinds generously offers to replace the illegal gear with a Victory Sheriff guitar amp. The clip also makes clear that he is not actually affiliated with any real law enforcement agency, though that won't stop him from "aggressively distributing the Victory Sheriff amp".
The clip also features a couple of cameos that eagle-eyed/eared players might spot, in the form of Royal Thunder's Mlny Parsonz and the band Order of the Owl.
Both Hinds and Kelliher have endorsed Victory Amps' newly revamped Sheriff line, in particular, with Hinds opting for the VS100 Super Sheriff head and Kelliher favouring the Sheriff 25.
If Dirty B. Hinds' law-making mayhem has caught your attention, head to Victory Amps (opens in new tab) for more information on the Sheriff Series.
Thank you for reading 5 articles this month*
Join now for unlimited access
US pricing $3.99 per month or $39.00 per year
UK pricing £2.99 per month or £29.00 per year 
Europe pricing €3.49 per month or €34.00 per year
*Read 5 free articles per month without a subscription
Join now for unlimited access
Prices from £2.99/$3.99/€3.49