On the morning of Jan. 18, during what had become routine police operations to clear protesters from the site of a future training facility nicknamed "Cop City" in Atlanta's forested outskirts, shots were fired. When the smoke cleared, an activist had been killed and a state trooper was wounded. Questions about what happened have elevated the case into a flashpoint in the national debate about policing and environmental activism.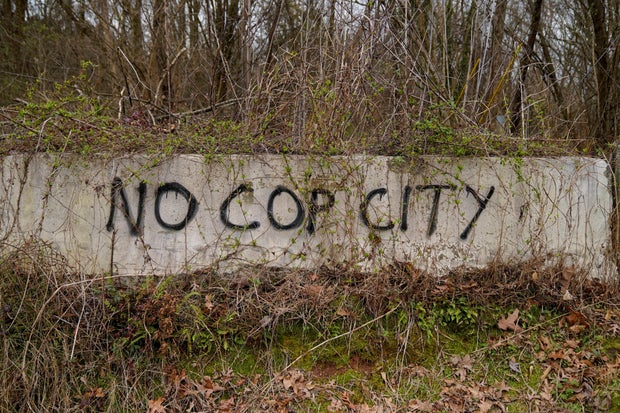 The killing of Manuel Esteban Paez Teran, a "forest defender" who went by the name Tortuguita (or little turtle in Spanish), has generated many questions among activists. The protests against the killing, in turn, have resulted in pushback from law enforcement and supporters.
The Georgia Bureau of Investigation has said the shooting was not recorded on body cameras. Police said the gun used in the shooting against the trooper was purchased by Teran in September 2020. On Wednesday, the Georgia Bureau of Investigation announced that a special prosecutor will be assigned to review the case, but critics are calling for an independent investigation. 
In recent days, protesters have descended in Atlanta, and chaos has sometimes ensued, resulting in multiple arrests. On Thursday, Georgia Gov. Brian Kemp called for a state of emergency ahead of more potential anti-police protests this weekend.
Distrust and outrage on both sides has been quick and pointed.
"The official narrative is that 'Cop City' is necessary to make Atlanta 'safe,' but this brutal killing reveals what they mean when they use that word," Defend the Atlanta Forest, a grassroots organization that has led the protests against the training center, said in a statement after the shooting. 
The authorities, on the other hand, point to acts of vandalism and alleged attacks on officers to discredit the protesters. "These are not acts of peaceful protest. These are criminal acts to destabilize communities and endanger citizens," Michael Register, director of the Georgia State Bureau of Investigation, the agency investigating the shooting, said earlier this week. 
Here's what we know about what led to the current tense and volatile standoff between protesters and officers in Georgia.
What is "Cop City"?
For years, Atlanta police have trained officers in temporary facilities, but in 2021 the police department and partners proposed building a facility to boost recruitment and retention efforts.
"We're excited, because first class cities have first class investment in their training, in their public safety first responders," Deputy Chief Darin Schierbaum told CBS News Atlanta during an overview of the project. "Training is the lifeblood of any public safety organization."
The $90 million, 85-acre center, which includes a shooting range, mock city and burn building, among other facilities, will "reimagine law enforcement training and Police/Fire Rescue community engagement," said the Atlanta Police Foundation, a not-for-profit that helps fund police initiatives through private-public partnerships in a statement on its website.
But the training center drew opposition almost immediately, coming on the heels of a tumultuous year of high-profile cases of police brutality and strained community relations. "We're talking about spending millions of taxpayer dollars to fund another failed proposal that will only line the pockets of wealthy people and not actually address the issues of our day," James Woodall, a policy associate with the Southern Center for Human Rights, told CBS News Atlanta. "City council members have even admitted that this will not impact crime," he added.
During a city council vote on the proposal, public comments poured in for 17 hours; many of the pre-recorded messages were passionately against the facility.
Who are the "forest defenders"?
Activists loosely connected through the grassroots network Defend the Atlanta Forest started arriving in the area after the facility was announced.  For nearly two years activists say they have been protesting the $90-million training campus through peaceful sit-ins in the forest. The protest has attracted supporters from outside the state to the Atlanta area. Their goal, they say in a statement on their website, is to protect an ecosystem "home to wetlands that filter rainwater and prevent flooding" and is "one of the last breeding grounds for many amphibians in the region."
"The movement to prevent the development of Cop City is a fight against hundreds of years of racialized violence and ecological destruction," the website adds.
The activists take inspiration from environmental defenders in other parts of the world, where deadly clashes and targeted killings are common. The organization Global Witness documented the killing of 200 environment and land defenders, mostly in Latin America, in 2021 alone. 
As part of their protest, activists have built campsites, filed petitions, and hosted rallies and educational events. On their website, they also admit that they have vandalized property owned by the Police Foundation and contractors, and sabotaged construction equipment. 
What comes next?
Confrontations between the police and the activists in the area have grown increasingly contentious. 
Officers have been deployed to the site many times to protect crews trying to start construction, the GBI director said. In May, Atlanta police arrested eight people after a raid on the site, alleging that suspects had thrown Molotov cocktails and rocks at officers.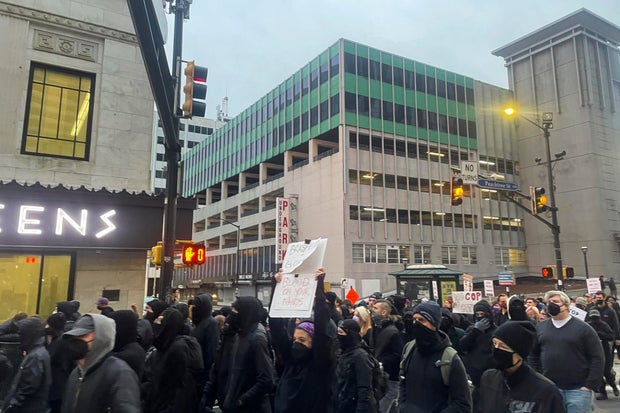 In December, five people were arrested and charged with domestic terrorism and other charges after allegedly throwing rocks and bottles at the training center, officials said. The DeKalb District Attorney's Office told CBS News it is pursuing domestic terrorism charges against five protesters. One of the arrested protesters, Ariel Ebaugh, 22, of Stockbridge, Georgia, has been charged with two counts of firearm possession during a commission of a felony, the DA's office said.
Tensions have only escalated further since Teran's killing –and there are no signs that they will ease anytime soon.
On Saturday, masked protesters dressed in all black threw rocks and lit fireworks in front of a skyscraper that houses the Atlanta Police Foundation, shattering large glass windows. Demonstrators also torched a police car and vandalized walls with anti-police graffiti. 
Governor Kemp's State of Emergency puts up to 1,000 members of the Georgia National Guard on alert, ready to be deployed. The State of Emergency declaration is currently set to run through Feb. 9.
Thanks for reading CBS NEWS.
Create your free account or log in
for more features.