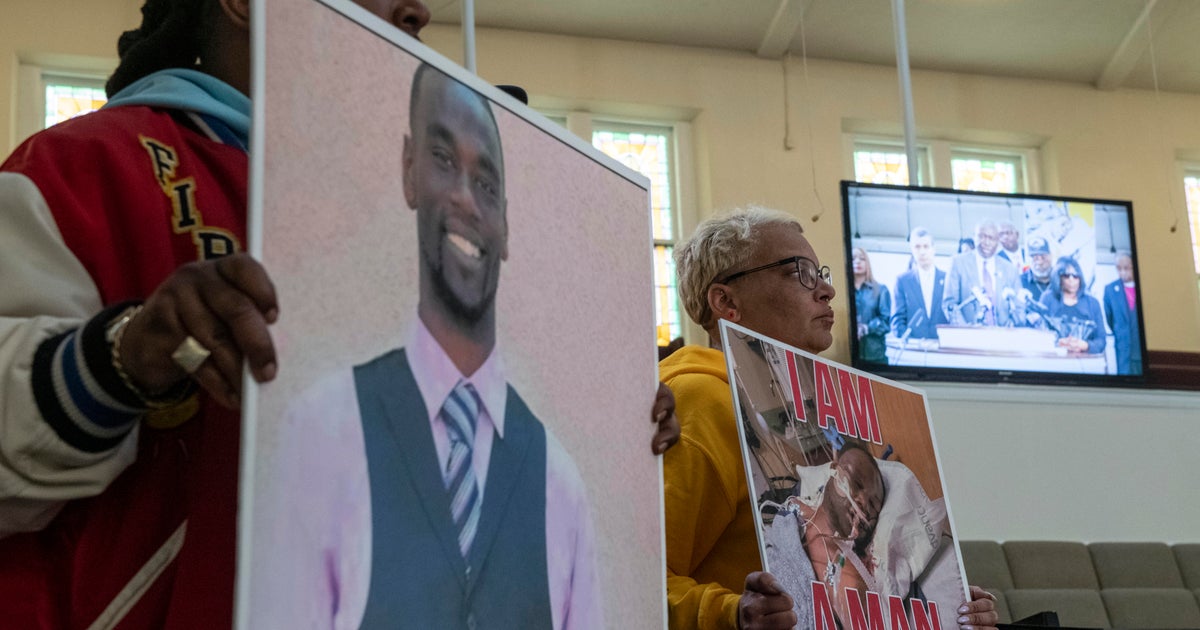 Five former Memphis police officers have been fired and  in the death of Tyre Nichols, a Black man who died three days after a violent traffic stop. Video footage of Nichols' arrest is expected to be released Friday sometime after 7 p.m. ET, as Memphis and other cities brace for protests. His family urged demonstrators to protest peacefully.
Authorities have released few details on what led to Nichols' arrest and what exactly happened after he was pulled over. Here is what we know so far about his death and the aftermath.
What we know about the arrest
On the night of Jan. 7, Nichols, a 29-year-old father and FedEx worker who has been described by family as an avid skateboarder, was returning home from a suburban park where he had taken photos of the sunset, according to his family's attorneys. On the way home, he was stopped for reckless driving, according to a statement from the Memphis Police Department. As officers approached Nichols to arrest him, a "confrontation" occurred and Nichols then fled, police said. A second "confrontation" also occurred at some point before Nichols was ultimately arrested, police said. 
Memphis Police Director Cerelyn "CJ" Davis said in a Jan. 27 interview on CNN that investigators "have not been able to substantiate" the report of reckless driving.
Police said that, following the arrest, Nichols "complained of having a shortness of breath, at which time an ambulance was called."  Nichols was taken to a hospital in critical condition, police said. 
Three days later, on Jan. 10, Nichols "succumbed to his injuries," the Tennessee Bureau of Investigation said, but did not elaborate on what those injuries were. An official cause of death has not been released.
Rodney Wells, Nichols' stepfather, told CBS affiliate WREG-TV his stepson suffered a cardiac arrest and kidney failure because of a beating by the officers.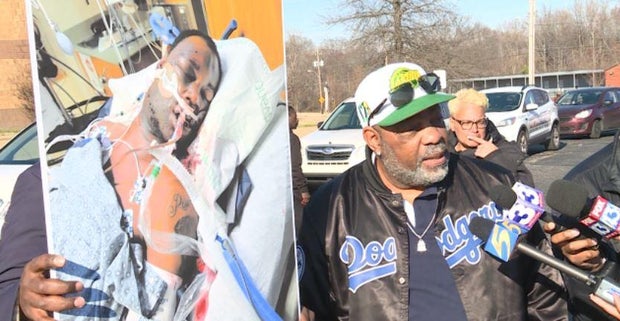 "When we got to the hospital, it was devastating," Wells said. "All of that still should not occur because of a traffic stop. You shouldn't be on a dialysis machine looking like this because of a traffic stop. That's inhumane."
Attorneys for the family said that an independent autopsy they commissioned found that Nichols suffered "extensive bleeding caused by a severe beating." The full findings of the report were not made public.
The officers involved
Five Memphis police officers were determined to be "directly responsible for the physical abuse of Mr. Nichols," said Davis, the police chief. The five officers — Tadarrius Bean, Demetrius Haley, Desmond Mills, Jr., Emmitt Martin III and Justin Smith  — were fired on Jan. 20. All are Black.
They were members of the so-called Scorpion unit, a group created by the department to focus on fighting street crime. A Nichols family attorney, Antonio Romanucci, said they were in unmarked cars when they stopped Nichols.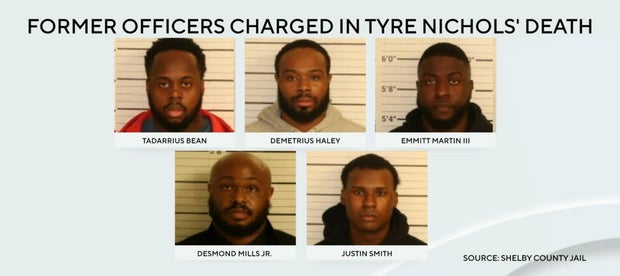 On Jan. 26, Shelby County District Attorney Steve Mulroy announced that a grand jury had handed down indictments on charges of second-degree murder, aggravated assault, aggravated kidnapping, official misconduct and official oppression against all five former officers. 
Second-degree murder is a class A felony punishable by 15 to 60 years in prison under Tennessee law.
Martin's lawyer, William Massey, confirmed Thursday that his client had turned himself in. Martin was out on $350,000 bond as of early Friday morning, jail records showed.
Haley was still behind bars early Friday morning, being held on $250,000 bond. Bean, Smith and Mills all posted $250,000 bond and had been released.
Massey said none of the officers intended to kill Nichols.
"No one out there that night intended for Tyre Nichols to die," Massey told reporters. "No one. No one. Police officers have a difficult and dangerous job. It's probably one of their worst fears that something like this would happen on their watch."
He stressed Thursday that his client is entitled to due process,
"Justice means following the law," Massey said. "And the law says no one is guilty until the jury says they're guilty."
Mills' lawyer, Blake Ballin, said at the same news conference that the former officer was "devastated" by the charges.
One of the officers, Haley, was accused previously of using excessive force. He was named as a defendant in a 2016 federal civil rights lawsuit while employed by the Shelby County Division of Corrections. 
The plaintiff in that case, Cordarlrius Sledge, said he was an inmate in 2015 when Haley and another corrections officer accused him of flushing contraband. The two officers "hit me in the face with punches," according to the complaint. A third officer then slammed his head to the ground, Sledge said. He lost consciousness and woke up in the facility's medical center.
The claims were ultimately dismissed after a judge ruled that Sledge had failed to file a grievance against the officers within 30 days of the incident.
What does the bodycam footage show?
While the police's bodycam video has not yet been publicly released, Nichols' family and their attorneys, along with several Memphis authorities, have viewed the footage. The video is expected to be released Friday evening.
In a Jan. 23 press conference, family attorney Ben Crump called the video "heinous" and likened the police's actions to the infamous 1991 beating of Rodney King by Los Angeles police.
Crump said Nichols was Tased, pepper sprayed and restrained during the encounter. Another of the family's attorneys, Antonio Romanucci, said police beat Nichols for three minutes.
"He was a human piñata for those police officers," Romanucci said, adding at one point that the video showed an "unadulterated, unabashed, nonstop beating."
Nichols' mother, RowVaugn Wells, told "CBS Mornings" that when she saw  the video, "All I heard my son say was, 'What did I do?' I just lost it from there."
Said she was unable to bring herself to watch the video in full, which she said showed Nichols being tased, beaten and pepper-sprayed. 
In a video statement, Memphis Police Chief Davis called the officers' actions "heinous, reckless and inhumane."
"This is not just a professional failing. This is a failing of basic humanity toward another individual," she said.
Cities brace for possible protests
Several major law enforcement agencies around the country reported that they would be on high alert in anticipation of the video's release.
Among them, Washington, D.C.'s Metropolitan Police Department said in a statement Thursday it "will not tolerate any unlawful behavior during First Amendment demonstrations, and we will take swift law enforcement action should anyone break the law."
The New York Police Department said it has a plan in place that includes "heightened security at police station houses" and the deployment of extra officers to "hot spots" such as Times Square. 
A protest was already scheduled Friday evening in front of Dallas Police Department headquarters. Dallas police issued a statement saying that "while we respect everyone's right to protest, no matter their position, we will NOT condone lawlessness in our city. We will take the appropriate action if anyone's actions threaten lives or harm people or property."
Thanks for reading CBS NEWS.
Create your free account or log in
for more features.