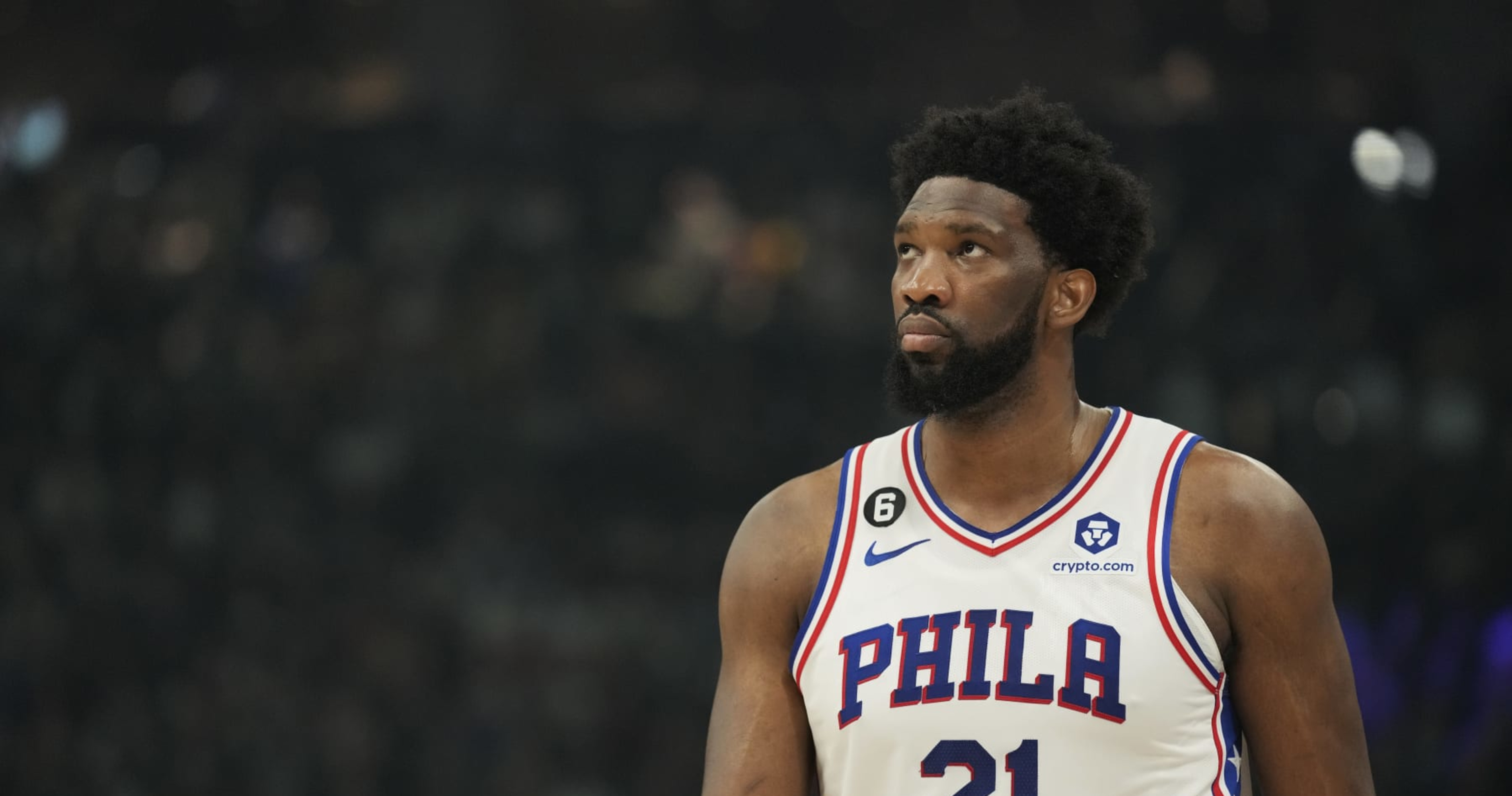 Joel EmbiidPatrick McDermott/Getty Images
In late February, in a contest that the Philadelphia 76ers led by 15 points in the second half, Jayson Tatum hit a go-ahead three for the Boston Celtics and left 1.3 seconds on the clock for Joel Embiid.
Unfortunately, for the two-time MVP runner-up, he needed 1.5.
NBA @NBA

WHAT AN ENDING IN PHILLY 😱

TATUM HITS FROM 3. EMBIID'S SHOT FROM 3/4 COURT IS AFTER THE BUZZER

CELTICS WIN pic.twitter.com/TKrrTYHQzI
Embiid drilled a miraculous, three-quarter-court heave, but replay confirmed that the ball had left his hand after the buzzer sounded and the edges of the backboards lit up with neon red.
"I wish I would've shot it sooner," Embiid told reporters after the loss. "Unfortunately, the story of my life."
Of course, the big man could've been referring to his career record against the Celtics (9-12 in the regular season and 1-8 in the playoffs), but maybe there was a hint of longing for the league's top individual honor too.
After it was announced that Nikola Jokić had won his second straight MVP in May 2022, Embiid said, "I wonder what else I have to do to win it."
That season, he averaged a league-leading 30.6 points while shooting 49.9 percent from the field and going 45-23 in his 68 appearances, but Jokić topped him (by wide margins) in rebounds, assists and steals per game, field-goal percentage, true shooting percentage and almost every conceivable catch-all metric. And even without Jamal Murray for the entire season and Michael Porter Jr. for most of it, Jokić's 46-28 record wasn't far behind Embiid's.
Almost a year later, it looks like the two big men could secure the top two spots in MVP voting for the third year in a row. And for the third year in a row, Embiid is entering the home stretch of the campaign as the underdog.
---
The Favorites

Joel Embiid and Nikola JokicAAron Ontiveroz/MediaNews Group/The Denver Post via Getty Images
FanDuel's sportsbook currently has Jokić as a -360 favorite to win the award. Embiid and Giannis Antetokounmpo are tied for the second-shortest odds at a distant +700.
Basketball Reference's MVP Tracker ("based on a model built using previous voting results") gives the Denver Nuggets center a 70.5 percent chance to three-peat. Embiid is second at 7.9 percent.
The Sixers star is putting up 33.2 points for the third-place team in the Eastern Conference, but Jokić is averaging a 24-point triple-double, with peak Stephen Curry scoring efficiency and the league's best plus-minus (in a landslide) on a runaway No. 1 seed in the West.
Embiid is playing like an MVP, but every time he raises his level from year to year, Jokić somehow does too.
Still, there's a path to the upset this season (however narrow it might be).
---
The Blueprint

Joel EmbiidGlenn James/NBAE via Getty Images
Fair or not (for a full-season award), some voters will remember the hurting Embiid and his 76ers put on Jokić in late January. In a game Philadelphia trailed by 15 with less than three minutes to go in the third quarter, Embiid scored 12 of his 47 points in the fourth quarter, while Jokić wilted in the second half against the defense of P.J. Tucker (a switch by Doc Rivers that kept his superstar out of foul trouble and freed him up to focus his energy on dominating offensively).
Rich Eisen @richeisen

Hey NBA MVP voters: remember this day when you might be choosing between Jokic and @JoelEmbiid two months from now.
Signature performances like that one help. He had another on Saturday against Giannis and the Milwaukee Bucks when the Sixers came from behind for the win and ended their opponent's 16-game winning streak. Embiid had 31 points and 10 dimes in that one. Two days later, he dropped 42 on 11-of-16 shooting on the Indiana Pacers.
Then, on Tuesday, with James Harden sitting the second night of a back-to-back, Embiid dominated three-time Defensive Player of the Year Rudy Gobert and the Minnesota Timberwolves.
He had the full repertoire on display, and Gobert was far from the only matchup he cooked.
He was hitting mid-range jumpers over Rudy.
At one point, he even gave him a step-back three.
And lest the Wolves had forgotten, he had guard-like drives to the rim that should be impossible for a player his size.
Scoring at all three levels has been a key throughout Embiid's career, but forcing officials to blow the whistle is obviously important too.
In Minnesota, nine of his 39 points came at the stripe. And on the season, he leads the league in free throws made per game. Even when the shot isn't falling, that fail-safe allows him to produce. He's averaged 26.5 points in the 13 games in which he's failed to shoot 50 percent from the field.
And as he continues to stack up performances like this against inferior competition, another matchup with the reigning MVP looms.
On March 27, in Denver, Embiid will get his second crack at the Nuggets. Right now, a second domination almost feels like a prerequisite to winning the award for Embiid, but a few 40-point performances before then could change that. Beating Jokić on the road might carry more weight than the January game too.
But that alone might not be enough. Team record has always been part of the sometimes vague MVP equation, and the Nuggets have a cushion between themselves and the 76ers. Winning that March 27 game would narrow it, but Philadelphia will need to go on a tear for the rest of the season to finish ahead of Denver or first in the East.
And that kind of run isn't out of the question.
Since starting the season 12-12, the 76ers are tied with the Nuggets for the fewest losses in the NBA.
During that stretch, Embiid is at 33.8 points, 10.5 rebounds, 3.7 assists, 1.5 blocks, 1.1 steals and 1.1 threes.
Head-to-head, those numbers may still come up shy of Jokić's, but if they lead to the strongest closing kick in the NBA, they'll have plenty of influence on MVP voters.
The ones who put more stock in subjectivity and the eye test also have that to fall back on. Personal preferences there helped Embiid secure 26 first-place votes last season, and those tests remain integral in evaluating defense.
Jokić leads the NBA in Basketball Reference's defensive box plus/minus and trails only Alex Caruso and Anthony Davis in FiveThirtyEight's defensive RAPTOR, but so much on that end of the floor can't be measured. And even the biggest Jokić fanatics aren't likely to argue that he's better than Embiid at protecting the rim, switching onto smaller players on the perimeter and just being a general deterrent.
If one subscribes to the theory that defense is as important (or more important) than offense, Embiid's advantage on that end might be enough to erase the gap in overall impact.
Ultimately, though, Embiid may have to rely on voter fatigue as much as anything else. And seemingly every other day, there's a new trend on social media that suggests that'll be a factor.
From not being worthy to join other three-peat winners (Bill Russell, Wilt Chamberlain and Larry Bird) to alleged stat padding, to bad defense (and lots in between), there are plenty of reasons (contrived reasons, but reasons nonetheless) a voter could use to look elsewhere. And if they do, Embiid should come into view.
Realistically, though, there won't be enough willing to do that, which means 2022-23 might just be another chapter in the "story of Embiid's life."
---
…Not the Final Chapter

Joel Embiid and Nikola JokicDavid Dow/NBAE via Getty Images
For the third year in a row, there's a better-than-likely chance Embiid will be eyeing next season as his chance to dethrone Jokić. In that case, he'll have another year of voter fatigue working for him (and against the Joker).
Beyond that, Embiid can spend the offseason making sure his team doesn't get off to a 12-12 start again. He'd likely need to lead his 76ers to a clear first-place finish in the conference. Fewer rest nights probably wouldn't hurt. And Defensive Player of the Year contention would be another worthwhile ingredient to add.
The checklist is long (and that one's not even exhaustive), but that's probably what it would take.
Embiid is already one of the greatest basketball players of all time, and that's not hyperbole. He's top 40 in career MVP shares and first all-time in career points per 75 possessions (with a bigger gap between himself and second-place Michael Jordan than MJ has between himself and third).
He just happened to hit his peak at the same time as another generational talent.
The story of their NBA lives—together—is one we should celebrate every bit as much as we debate.