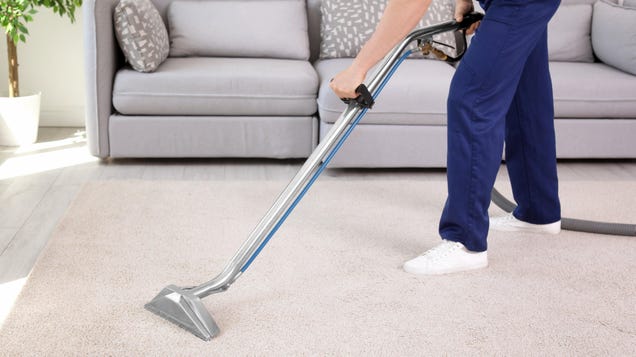 We've talked a lot about the difference between regular old cleaning and more heavy-duty disinfecting and why it's important to disinfect a variety of things you're probably not disinfecting. And one thing that's regularly cleaned but rarely disinfected is your carpet, which, when you think about it, is pretty damn gross. As a soft material, it's a great host for all kinds of dirt and germs, but vacuuming only eliminates half of that problem. Here's how to disinfect your carpet.

How often should you deep clean your carpet?
Per The Spruce, you should disinfect your carpets at least twice a year, though you should aim to do it seasonally. Add this to your spring-cleaning checklist at the very least, and if you're not using an app to help you manage your various tidying schedules, download one now so you don't forget to do the carpets next quarter, either. (Here's our list of the best apps based on your cleaning style.)
How should you disinfect carpet and rugs?
First, some good news: After a quick vacuuming or shaking, small rugs and carpets can go right into your washing machine and get run on a hot-water cycle to disinfect them. If you don't have a big washing machine with a central agitator, consider taking your rugs to a laundromat (and read our guide on how to save money once you get there). Make sure to use a laundry sanitizer, which you can find in the detergent aisle at the store. The bad news: Not all of your carpets are likely to be miniature.
For the big ones, you'll need to move all your furniture off of it and vacuum it first. You also need a disinfectant that is recommended by the Environmental Protection Agency. The EPA has a searchable list here and you can sort by "carpet care." There's no way around needing a steam cleaner for the next part, but fortunately, you can get one for as low as $189 on Amazon or even $119 from Harbor Freight. Those are smaller versions, but if you're looking for one that's more heavy-duty, it might make more economic sense to rent it. Bissel rents out carpet cleaners for $34.99 for 24 hours and $39.99 for 48, for instance. Plus, you can throw in their EPA-certified products for an additional $13.99 to $34.99, depending how much you need.
The disinfectant that you choose should have instructions that explain exactly how to use it with a steam cleaner, but for the most part, you can expect fill the device with water and solution or, in some cases, spray disinfectant directly on your carpet and go over it.
From here, you have to air dry the carpet, so open some windows or set up a large fan in the room. This will take some time, so plan to let it dry overnight for best results and don't put any of your furniture back until it's done.
One note: While some may recommend vinegar—and it is a powerful cleaning agent that can tackle some bacteria—you need an EPA-certified product to really disinfect, so don't waste your time or punish your nostrils needlessly with that kitchen staple.
When to call a pro
If all of this sounds like a lot, that's because it is. If you lack the time to check EPA certifications and rent a cumbersome machine or you don't feel like storing a big old steam cleaner, you can always call in a pro. To decide if this is the best option for you, take stock of your home. Angi, which connects people with pros, notes that you should go to a cleaner who gives you clear quotes, whether by square footage or by room. Note, however, that these can change from provider to provider and based on the specifics of your space. An L-shaped room, for instance, might be considered and charged as two "rooms" by a company, so know your square footage and call numerous local providers for quotes and information.
Per Home Advisor, the average cost of a pro is $180 for a three-bedroom home, but you can expect to pay between $123 and $240.