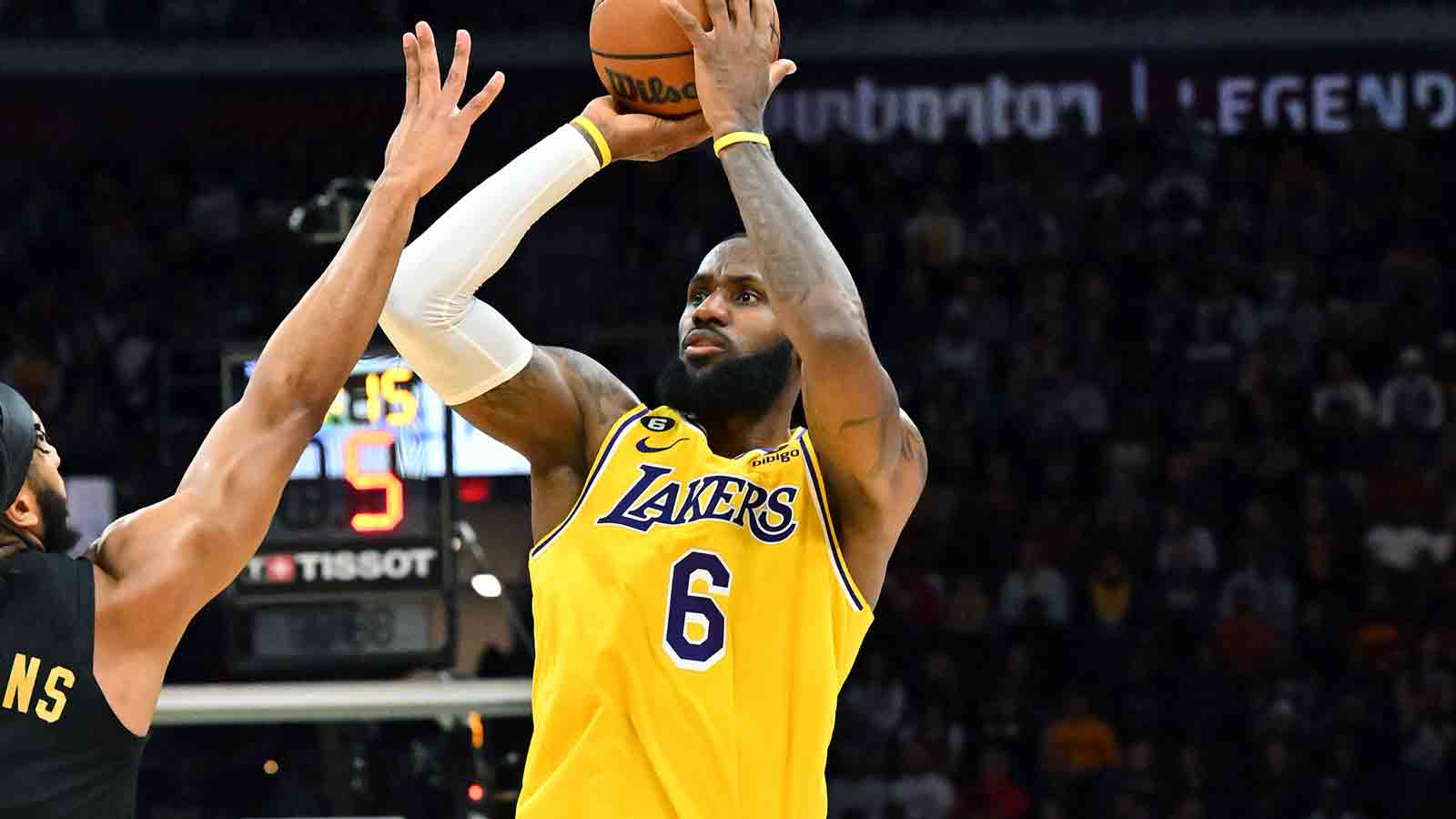 Which game could LeBron break the all-time scoring record? originally appeared on NBC Sports Chicago
It was on Oct. 29, 2003 that an 18-year-old rookie named LeBron James hit a 16-foot jumper against the Sacramento Kings for the first points of his NBA career.
Now, nearly 20 years and 38,000 points later, James is set to become the league's all-time leading scorer. 
He currently sits second behind Kareem Abdul-Jabbar, who has long held the record with 38,387 career points. Projecting when and where James will set the new mark remains an inexact science dependent on LeBron's offensive productivity and overall availability over the next dozen or so games.
During our preseason story on the 10 must-see games of the NBA regular season, we predicted it would be Feb. 23 against the Golden State Warriors. But LeBron is currently on pace to do so even earlier.
Based solely on James averaging 29 points per game this season, it would take another 14 games for him to score his 38,388th career point. That means the historic bucket would be scored on Feb. 9 against the Milwaukee Bucks at Crypto.com Arena in Los Angeles.
Of course, it could happen earlier with a few offensive outbursts or later with a few load management DNPs. 
Sports
Get today's sports news out of Los Angeles. Here's the latest on the Dodgers, Lakers, Angels, Kings, Galaxy, LAFC, USC, UCLA and more LA teams.
Here's a look at LeBron's current point total and the Lakers' upcoming games, one of which will be the setting for a historic record-breaking moment. 
How many points does LeBron need to break the all-time scoring record?
LeBron scored 24 points in the Lakers' double-overtime loss to the Mavericks on Thursday to bring his career total to 37,989. That puts him 398 points behind Abdul-Jabbar for the most in league history. 
Which game could LeBron break the all-time scoring record?
LeBron is on pace to break the record sometime in February. Here is the Lakers' upcoming schedule…
Jan 15. vs. Philadelphia 76ers
Jan. 16 vs. Houston Rockets
Jan. 18 vs. Sacramento Kings
Jan. 20 vs. Memphis Grizzlies
Jan. 22 at Portland Trail Blazers
Jan. 24 vs. Los Angeles Clippers
Jan. 25 vs. San Antonio Spurs
Jan. 28 at Boston Celtics
Jan 30 at Brooklyn Nets
Jan 31 at New York Knicks
Feb. 2 at Indiana Pacers 
Feb. 4 at New Orleans Pelicans – Might LeBron set the record somewhere during the Lakers' 
five-game road trip that carries from late-January into early-February?
Feb. 7 vs. Oklahoma City Thunder – Will LeBron pace himself – or perhaps take a day off or two – on the road to ensure the record is broken in Los Angeles? 
Feb. 9 vs. Milwaukee Bucks – Based solely on his season average, and barring any games missed to injury or rest, LeBron would break the record against Giannis Antetokounmpo and the Bucks.
Feb. 11 at Golden State Warriors – Remember when LeBron mean-mugged the Warriors on opening night as they received their championship rings? Maybe he counters with the league's highest individual accomplishment on their home court in front of a national television audience.  
Feb. 13 at Portland Trail Blazers – Portland would be a somewhat random and unsentimental location for LeBron to make history. Then again, Abdul-Jabbar broke the record in Las Vegas. Confused? The Utah Jazz played some home games in nearby Vegas during the 1980s while building a local fan base after their move from New Orleans. While the Lakers played the Jazz in April of 1984 at the Thomas and Mack Center at the University of Nevada-Las Vegas, Abdul-Jabbar hit a skyhook to bring his scoring total to 31,420 points, topping the previous record held by Wilt Chamberlain.   
Feb. 15 vs. New Orleans Pelicans – Perhaps the Lakers will force feed LeBron the ball so he can set the record in their last game before the NBA All-Star break.
Feb. 23 vs. Golden State Warriors – If LeBron enters the All-Star break a few buckets shy of breaking the record, his first chance to set the new mark will come against Steph Curry and the defending NBA champions.