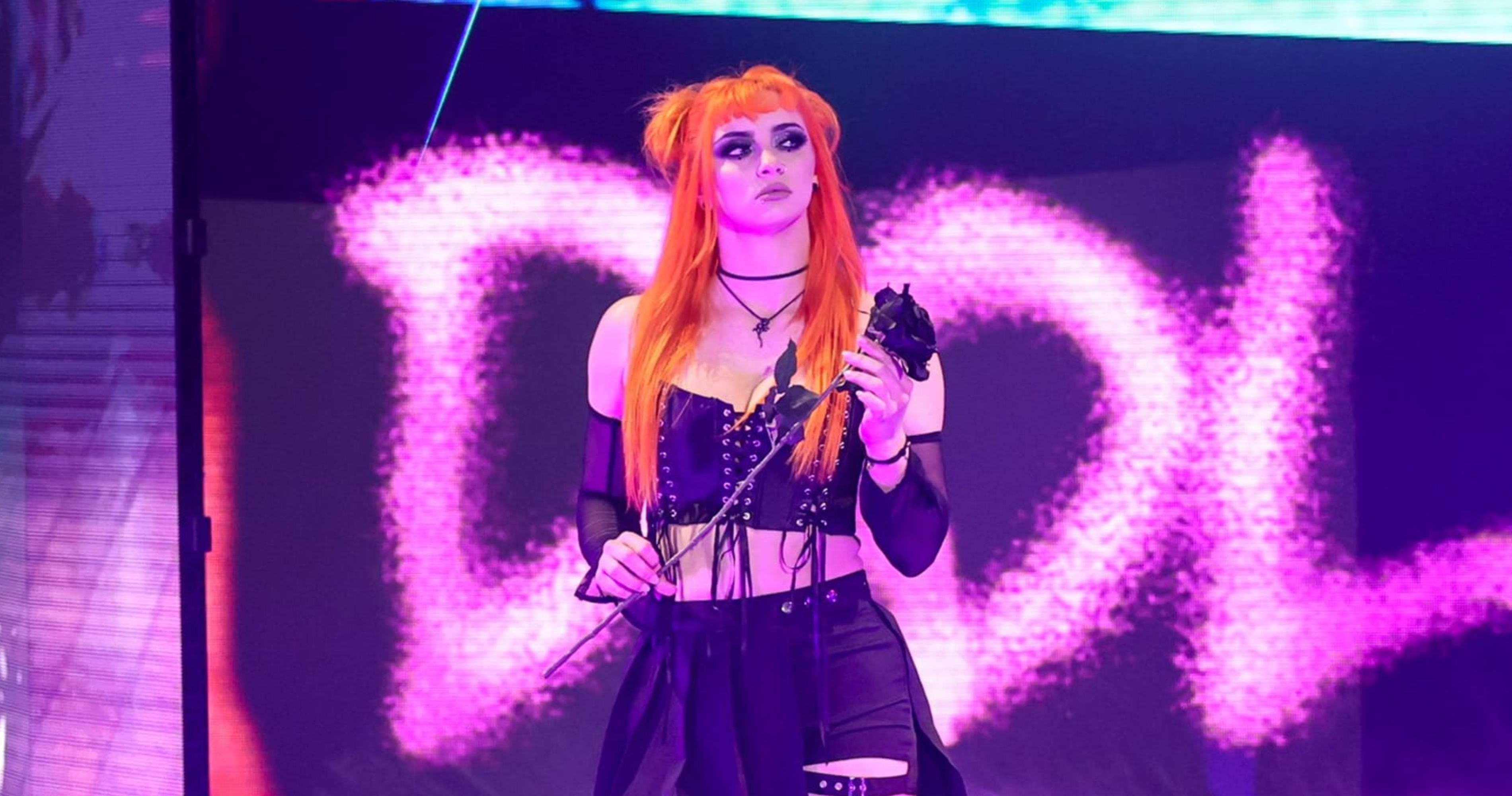 WWE NXT Roadblock 2023 Results: Winners, Grades, Reaction and Highlights
0 of 7
Gigi Dolin battled former tag team partner Jacy Jayne in one of NXT Roadblock's marquee matches.Credit: WWE.com

Gigi Dolin and Jacy Jayne once dominated NXT as two-thirds of Toxic Attraction, but the former friends battled in an emotionally fueled grudge match at Roadblock on Tuesday.

Who earned bragging rights by scoring a coveted victory over the other and what does it mean for the immediate future of the competitors?

Find out the answer to that and more with this recap of a March 7 show that also featured an edition of "The Grayson Waller Effect" with special guest Shawn Michaels.
Match Card
1 of 7
Already announced contests for Tuesday's show:
Gigi Dolin vs. Jacy Jayne
Andre Chase vs. Joe Gacy
"The Grayson Waller Effect" with Shawn Michaels
NXT Women's Championship: Roxanne Perez (c) vs. Meiko Satomura 
Bron Breakker and The Creed Brothers vs. Indus Sher and Jinder Mahal
Jailhouse Street Fight: Tony D'Angelo vs. Dijak
Jailhouse Street Fight: Tony D'Angelo vs. Dijak
2 of 7
Credit: WWE.com

Tony D'Angelo cost Dijak the NXT North American Championship at Vengeance Day. Tuesday night, they settled their differences in a Jailhouse Street Fight in which the only way to win was to lock your opponent in a jail cell set up at ringside.

The physical encounter centered around the idea of family and the lengths Channing "Stacks" Lorenzo would go to help D'Angelo secure the victory. The answer? Considerable lengths, including taking punishment at the hands of Dijak and sandwiching his body between the door and the cage.

That allowed D'Angelo to utilize a crowbar introduced by his backup to stun his opponent and ultimately lock him in the cell for the win.

The relationship between the babyfaces has gone a long way in not only gaining acceptance of the NXT audience but also evolving the D'Angelo character. No longer just a caricature, he is a guy who understands the value of a friend rather than an employee or a lackey.

Dijak probably could have done without suffering another loss but as a physically dominant competitor, there is plenty of potential for him to rebound quickly in a way D'Angelo may not have.

This was a good start to the show, even if the old "lock someone in the cage" gimmick isn't a favorite for this writer.

---

Result

D'Angelo defeated Dijak

---

Grade

B-, just missing a higher grade due to the gimmick

---

Top Moments
Vic Joseph made a "Big Boss Man" reference, claiming Stacks told him D'Angelo trained in Cobb County, Georgia for this match. 
Dijak delivered High Justice on a steel chair.
D'Angelo launched his opponent off the top rope with a back suplex onto a pile of chairs entering the break.
With D'Angelo sprawled on a table, Dijak delivered a springboard elbow drop, driving his opponent through it.
D'Angelo targeted the previously dislocated finger of Dijak to avoid the closing of the cell.
Joseph hinted at both men asking Dominik Mysterio for advice on spending time in a cell ahead of the match.
A fired-up D'Angelo responded to Dijak hurting Stacks by pummeling him with a chair. The heel cut his momentum off with a low blow.
Stacks sacrificed for his friend, throwing himself between the door and the jail cell. 
Gallus and Pretty Deadly Face-to-Face; Six-Man Tag Team Match
3 of 7
Credit: WWE.com

NXT tag team champions Gallus (Wolfgang and Mark Coffey) hit the ring and called out Pretty Deadly's Elton Prince and Kit Wilson.

The charismatic Brits interrupted and, after some humorous banter, reiterated their desire to challenge for the titles they feel belong to them.

They eventually hit the ring and a brawl briefly broke out before Pretty Deadly bailed out to the floor, ending a segment that did nothing to evolve the feud.

The Creed Brothers (Julius and Brutus, teamed with NXT champion Bron Breakker in a big six-man tag team match against Jinder Mahal and Indus Sher (Veer and Sanga).

A hot start by the babyfaces gave way to the heels slowing the pace and working over Julius. The action broke down late, but it was Brutus taking to the air and wiping out Veer for the win.

This was a fun, action-packed contest that gave Breakker and the Creeds a hard-fought victory. Indus Sher and Mahal lost, but they did so to a team that features the NXT champion, which lessens the blow.

That heel trio can be rebuilt if those in power see fit, but they could easily make the jump to the main roster, too.

Carmelo Hayes watching from the commentary team all but confirms a match with Breakker for the NXT title is to come, even if the announce team is playing coy as to what the former North American champion means with his recent rhetoric.

---

Result

Breakker and The Creed Brothers defeated Indus Sher and Mahal

---

Grade

B

---

Top Moments
Lyra Valkyria cut a promo on Meiko Satomura and a potential rekindling of their rivalry, this time with the NXT Women's Championship at stake should she defeat Roxanne Perez tonight.
Dragon Lee appeared in the audience, officially making his NXT television debut.
The boos for Breakker are becoming clearer, with the audience almost certainly looking for a fresh face of this NXT incarnation.
The babyfaces wiped out Mahal and Indus Sher heading into the break and stood tall, much to the delight of a crowd that was booing the NXT champion moments earlier.
Hayes joined the commentary team.
'The Grayson Waller Experience' with Shawn Michaels
4 of 7
Credit: WWE.com

The egotistical Grayson Waller did everything in his power to goad Shawn Michaels into a match at NXT Stand & Deliver on April 1.

He hurled insults, ran down the brand HBK has devoted this portion of his career to and even expressed his disgust for the fans.

At one point, it looked like Michaels may take him up on the offer and wrestle his first match since his ill-fated in-ring return in Saudi Arabia in 2018.

Instead, he introduced a man who wants nothing more than to beat Waller in Los Angeles: Johnny Gargano.

The man who Michaels claimed "bleeds NXT" hit the ring, laid into Waller and teased a superkick before the Australian bailed to the floor.

And with that, NXT has its real main event for Stand & Deliver.

Waller sent Gargano packing from NXT with a brutal assault that began his ascent with the brand. For him to take the next step, he will now have to beat Johnny Wrestling in what is the heel's most significant match to date.

For a show that is sometimes criticized for its baffling creative choices, this was fantastic.

Waller shined, Michaels was great as the defiant authority figure, and Gargano popped the crowd.

---

Grade

A

---

Top Moments
"Guess what: Now you're Vince," Waller said to Michaels, accusing The Heartbreak Kid of becoming the very man who held him back for being too small and not being a draw.
"I'm the biggest star here but I'm not the guy because you're holding me back," Waller stated.
"The only reason you're in Gorilla is because your best friend, Hunter, had a heart attack," Waller added.

"You want to run me down? Knock your socks off, boy, because people better than you have been doing it for years," Michaels said.
Gigi Dolin vs. Jacy Jayne
5 of 7
Credit: WWE.com

Toxic Attraction exploded Tuesday as former teammates Gigi Dolin and Jacy Jayne battled one-on-one.

What was billed as a grudge match between former friends more closely resembled a straightforward wrestling bout. Dolin fought from underneath and defeated Jayne from out of nowhere, but it was the post-match beatdown by the heel that was the bigger takeaway.

The match we got here was not reflective of the tone set by the creative that preceded it. The intensity and physicality were nowhere near what they needed to be.

Much of that can be attributed to the fact that the feud is not over and ramping everything up in Dolin and Jayne's first showdown would be a misstep and diminish the follow-up, presumably taking place in Los Angeles on April 1.

The commentary team put over Dolin as the sympathetic babyface while Jayne was somewhat downplayed. It seemed to shine a light on which competitor is likely to benefit most from the breakup.

Dolin is ready to begin her ascent as a singles competitor, while Jayne needs to find her footing as a competitor and evolve her in-ring game. It will come with opportunity, but it's clear right now that Dolin is most ready to benefit from this breakup.

---

Result

Dolin pinned Jayne

---

Grade

C+

---

Top Moments
Dolin took the fight to Jayne entering the break, but the heel controlled coming out of it.
Jayne attacked Dolin after the match and teased stomping on her head, which she trapped in a steel chair. This negated Vic Joseph's assertion that Dolin "hammered the final nail" into Toxic Attraction, as the feud appears set to continue. 
Bron Breakker vs. Carmelo Hayes is Official; Andre Chase vs. Joe Gacy
6 of 7
Credit: WWE.com

NXT champion Bron Breakker wasted little time calling out Carmelo Hayes.

The two men acknowledged the fact that their paths have intersected and it's time for them to have a one-on-one showdown at Stand & Deliver for the top prize in the brand.

It was a subdued promo that highlighted two competitors who have respect for each other and will leave everything in the ring to prove they are the superior wrestler come April 1.

After finding her center during a backstage segment involving Tyler Bate, Thea Hail was prepared to conquer her greatest fear: Schism. Unfortunately, doing so cost Andre Chase his match against that faction's leader, Joe Gacy.

The professor of Chase U rolled late in the bout and appeared to be nearing victory when Hail confronted Ava Raine at ringside. Encouraged by her refusal to back down, Hail gave a proud Chase a double high-five. The distraction allowed Gacy to recover and deliver a rebound lariat for the win.

The match was interrupted by a commercial break that negatively affected its flow. Less about match quality, this was about the continuation of Duke Hudson's mounting frustration with Chase and Hail.

Backstage, he took it out on his professor and the star pupil before storming off.

Look for that dispute to be the major takeaway from this, rather than the feud between Chase U and Schism.

---

Result

Gacy defeated Chase

---

Grade

C

---

Top Moments
Bate worked on meditation with Hail prior to the match.
Raine appeared unfazed by Hail.
A backstage exchange between Wes Lee and Axiom hinted at a North American Championship match as part of Lee's Open Challenge series.
NXT Women's Championship: Roxanne Perez vs. Meiko Satomura
7 of 7
Credit: WWE.com

Roxanne Perez defended her NXT Women's Championship against the legendary Meiko Satomura in the main event of Tuesday's show.

Early grappling gave way to both champion and challenger enjoying a fair share of control.

Initially, Perez took the fight to her challenger. Satomura regained control and appeared to have a win in hand at one point, only for her opponent to drape her foot on the bottom rope and break up the pin.

Moments later, Satomura attempted a step-up kick, but the champ dodged it and scored the roll-up for the win.

After the match, Perez collapsed before being carried out of the arena and into a waiting ambulance as the show went off the air.

This was a gutsy showing for Perez, who went toe-to-toe with a legend, absorbed everything thrown at her and scored the win. She pushed herself to the limit and trained harder than ever before to ensure she retained her title against a woman she considered a hero.

However, her long-term health and well-being were sacrificed for this single win.

Creatively, it gives her an excuse for losing to Tiffany Stratton in Los Angeles, assuming Perez comes back too soon and accepts another championship defense. That feud can carry on through the summer before Perez regains the title.

Kudos to Shawn Michaels for booking an angle right out of his own career. Hopefully, it is as effective and beneficial for Perez as it was for him.

---

Result

Perez defeated Satomura to retain

---

Grade

B+

---

Top Moments
Satomura showed Perez respect after the match, presenting her with the championship. She looked on with great concern as the 21-year-old was wheeled out of the arena.
Booker T got up from the announce position to sell his concern for his star pupil.