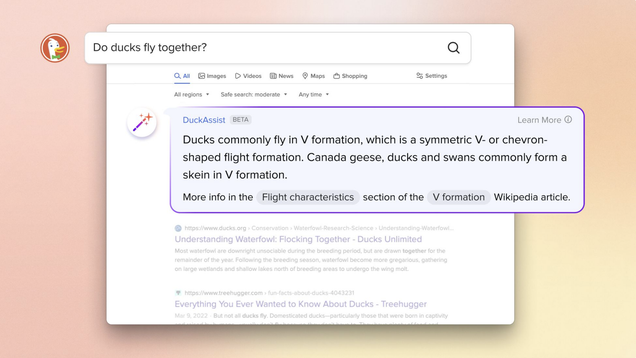 Everyone wants in on AI these days, and for good reason. AI programs and services are pulling in millions of active users and dominating headlines. ChatGPT alone reached 100 million active users within two months. The latest players in the AI space are search engines, which want to transform traditional "googling" into educational conversations with artificial intelligence. DuckDuckGo is taking a slightly different approach, incorporating AI into search without the chat—instead, offering users clear, concise answers to their queries.
The search company is dubbing their new product "DuckAssist," powered by natural language technology from OpenAI (creators of ChatGPT) and Anthropic. Unlike sophisticated and complex chatbots like Microsoft's Bing or Google's upcoming Bard, DuckAssist won't offer you deeper learning through human-like conversations. Instead, the feature simply kicks in whenever you perform a search that could reasonably be answered by Wikipedia. When that happens, you'll see DuckAssist appear with a blue "Ask" button: Choose it, and the AI will try to give you a clear answer to your query.
It works because DuckAssist is actually pulling its data from Wikipedia (as well as Britannica occasionally), and why not: If the AI can find the answer to your question in a series of cited articles on the free encyclopedia, it saves you the trip to Wikipedia yourself, as well as pouring through articles that sourced the same Wikipedia articles DuckAssist found. Plus, as Gizmodo's Thomas Germain points out, limiting the information to these sources minimizes the issues other AI programs have had, including "hallucinations" and other bizarre behavior.
Because of how it's currently designed, expect the best results from straightforward, fact-based questions, rather than subjective questions the AI would need to formulate an argument for. DuckDuckGo suggests questions like "what is a search engine index" over things like "what is the best search engine?" Good on them for not automatically saying "DuckDuckGo, of course!" In any case, all DuckAssist answers will provide a source, so you can see where it's pulling the information from.

Like other AI models, DuckAssist isn't actively connected to the internet. Rather, it's pulling from a downloaded database of Wikipedia articles. DuckDuckGo says this database is "at most a few weeks old," so don't assume it will provide answers to questions that would need context more recent than early February 2023.
The best thing about DuckAssist, however, is that it's available to everyone right now. Microsoft holds Bing's AI chatbot behind a waitlist, while Google's Bard is available to a limited pool of software testers. You can find the DuckAssist beta right now, however, in the iOS, Android, and Mac versions of the DuckDuckGo app, as well as the DuckDuckGo extensions for Firefox, Chrome, and Safari. It isn't available for standard DuckDuckGo search yet, but there are still plenty of ways to try it out today.
If you use these forms of DuckDuckGo, DuckAssist will be on by default. You can disable DuckAssist, but only by disabling "Instant Answers" in settings, which will, as you'd expect, turn off Instant Answers in addition to the DuckAssist.