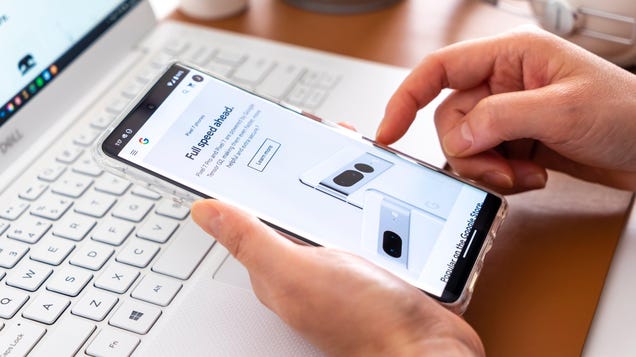 Android and iOS are more similar today than they've ever been, but Android still reigns supreme in one particular area: the back gesture. While iPhones deal with inconsistent back gestures and buttons, going back on Android is a dream—a simple one at that. You tap the back button, or swipe back, and you return to the last page, app, or screen you were visiting, every time. Now, the gesture is changing, and you can be among the first to try the new update.

Why would you do that when it's already so good? Well, we've praised Android's back gesture, so let's criticize it (a bit). It's undeniably perfect for going back to the last thing you were doing on your smartphone. But what if you don't remember what that thing was? Sure, if you're going back seconds later you'll likely know, but maybe you just spent the last 12 minutes reading about the times the Oscars got it right, and your mind is so preoccupied with Frances McDormand's performance in Fargo you have no idea what you were doing before you clicked on that article.
For most Android users, the back gesture is a convenient shot in the dark. But it won't be for long: With Android 14, Google is finally giving us some context before we jump back to our previous position. With Android 14 Developer Preview 2, we now have a "predictive back gesture," which shows you a preview of what you're about to switch to as you pull on the screen. If you're about to go back a page, you'll see that, but if you're about to jump into another app, you'll see its window slowly appear as well. In addition, you'll see a Material You arrow appear to note the fact you're going back a page.
How to get the new Android back gesture right now
Of course, Android 14 isn't out yet. (Hell, some of us don't even have Android 13 yet.) To try the new back gesture out for yourself, you'll need to install the latest Android 14 developer preview on your Pixel 4a 5G or newer.
Unlike Apple's developer betas, which are locked away behind a paid developer account, anyone can install the developer preview on a compatible Pixel device. However, like any software in testing, take caution before installing it on your personal phone. If you do, make sure you have a clear backup of your data somewhere, since an issue with the developer preview might force you to reset your smartphone, losing any data that isn't saved elsewhere.
Developer previews are also a bit more involved than installing normal preview software, but Android Police has a great walkthrough for flashing the developer preview on your Pixel. Once the developer preview is installed on your device, you'll find the new predictive back gesture option under "Developer options" in Settings.