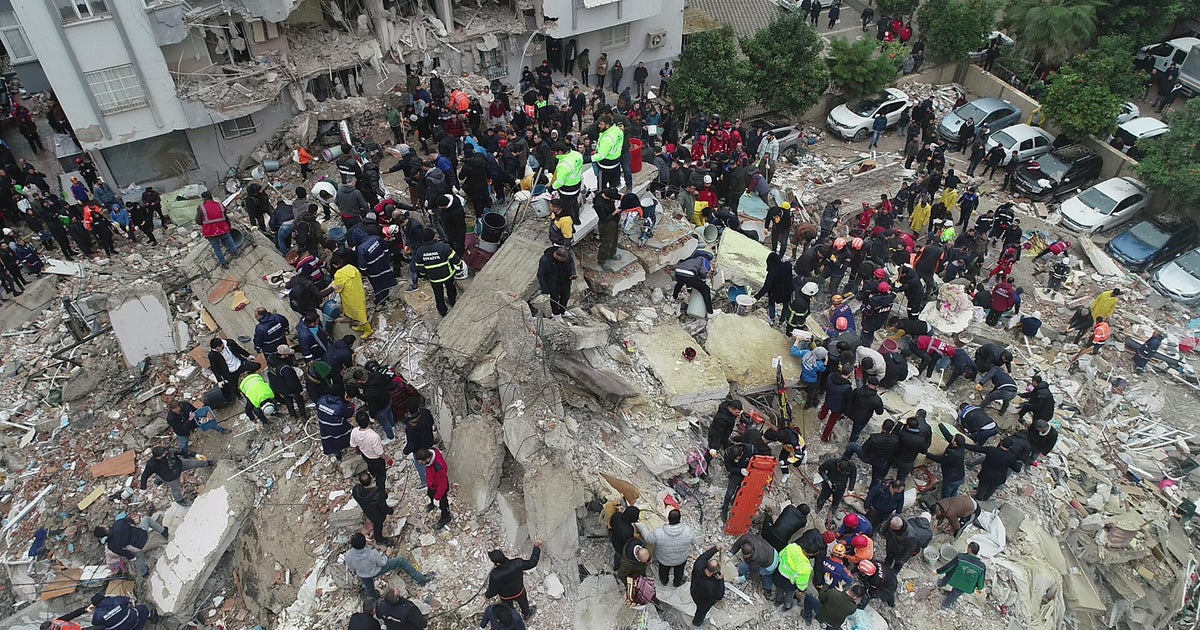 A strong 7.8 magnitude earthquake hit southeastern Turkey and northern Syria early Monday, killing more than 1,300, injuring thousands more and setting off a frantic search for survivors trapped under the rubble of collapsed buildings.
Turkish President Recep Tayyip Erdogan said the death toll in his nation had skyrocketed to 912. 
The temblor struck before dawn on a rainy, snowy night.
It was felt as far away as Cairo, Cyprus and Lebanon.
There have been at least 20 aftershocks, one a magnitude 6.6, Turkish authorities said.
The quake shook a region torn by the civil war in Syria, which has lasted more than a decade.
The area affected in Syria is divided between government and opposition forces. Turkey hosts millions of refugees from the war.
Many nations immediately offered assistance, including the United States, Germany, France, Greece and Ukraine.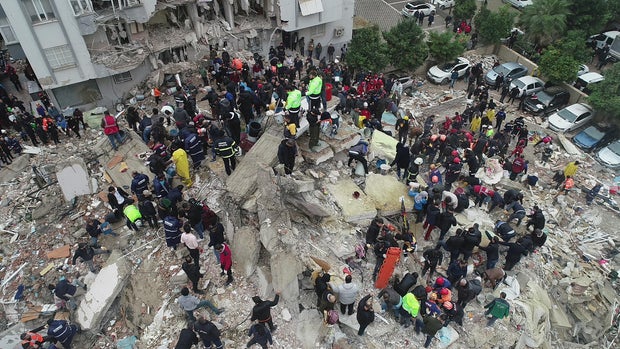 Region knows suffering all too well
The temblor struck a region that's been shaped on both sides of the border by more than a decade of civil war in Syria. On the Syrian side, the swath affected is divided between government-held territory and the country's last opposition-held enclave, which is surrounded by Russian-backed government forces. Turkey, meanwhile, is home to millions of refugees from that conflict.
The opposition-held regions in Syria are packed with some 4 million people displaced from other parts of the country by the fighting. Many of them live in buildings that are already wrecked from past bombardments. Hundreds of families remained trapped in rubble, the opposition emergency organization, called the White Helmets, said in a statement.
Winter adding to misery
Shocked survivors in Turkey rushed out into the snow-covered streets in their pajamas, watching rescuers dig through the debris of damaged homes with their hands.
"Seven members of my family are under the debris," Muhittin Orakci, a stunned survivor in Turkey's mostly Kurdish city of Diyarbakir, told Agence France-Presse.
"My sister and her three children are there. And also her husband, her father-in-law and her mother-in-law."
The rescue was being hampered by a winter blizzard that covered major roads in ice and snow. Officials said the quake made three major airports in the area inoperable, further complicating deliveries of vital aid.

Death toll keeps climbing
Turkish President Recep Tayyip Erdogan said the death toll in his nation had risen to 912.  The death toll in government-held areas of Syria climbed to 237 with more than 630 injured, according to Syrian state media. At least 120 people were killed in rebel-held areas, according to the White Helmets, the emergency organization in opposition areas.
— CBS/AP