An 11-year-old Florida boy died just days after a sprained ankle led to a flesh-eating bacterial infection, family members said.
Jesse Brown, a fifth grader at Lakemont Elementary School in Winter Park, was injured while using a treadmill last month, his cousin Megan Brown told NBC affiliate WESH.
Megan Brown said the family noticed the boy's leg was covered in reddish-purple bruises a few days after the accident and that the bruises were the first sign of group A strep.
Brown said the bacteria entered Jesse's bloodstream and eventually shut down his organs. Jesse was taken to a nearby hospital for treatment and died a few days after that, his cousin said.
"They had to bring him back a couple of times because his heart was doing crazy things. His organs were starting to shut down and they had to intubate him," Brown told WESH.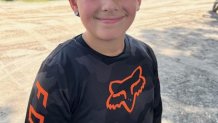 She said prior to the treadmill incident, the boy was active and healthy. BMX and motocross competitions are where Jesse shined, she said.
To his family, Jesse Brown was the miracle child, Brown told WESH.
"Bebe and Brad, they struggled with getting pregnant for 10 years, and then they finally had Jesse," Brown said.
The Foundation for Orange County Public Schools has started a memorial fund for Jesse to help his family with hospital and funeral expenses.
The foundation said Jesse had attended Lakemont Elementary since kindergarten and was member of the school's safety patrol.
"Jesse was kind and compassionate, looked out for others, adventurous, and truly an amazing friend and classmate," the foundation said in a statement. "He also knew how to make the most of fun times with friends outside and lived life to the fullest with his BMX and dirt bike racing."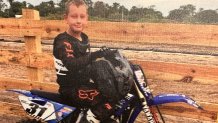 A Rise in Staph-A Infections in Children
The Centers for Disease Control and Prevention is looking into an increase in invasive group A strep infections among children in the U.S., the agency has warned.
The sharp increase is likely due to the continued rollback of pandemic-era health precautions like masks and social distancing.
Those infections can lead to somewhat mild illnesses from strep throat to scarlet fever or more serious, and possibly deadly, illnesses like necrotizing fasciitis streptococcal toxic shock syndrome.
The CDC says parents should learn about the symptoms for necrotizing fasciitis, streptococcal toxic shock syndrome, and cellulitis and seek medical attention if they believe anyone in their household may have an infection.
According to the CDC, these are possible symptoms of necrotizing fasciitis:
a red or swollen area of skin that spreads quickly
severe pain
fever
dizziness
changes in the color of the skin
one or more black spots on the skin
ulcers or blisters on the skin
Learn more at the CDC advisory page here.
The Associated Press and WESH-TV's Anika Hope and Senait Gebregiorgis contributed to this report.