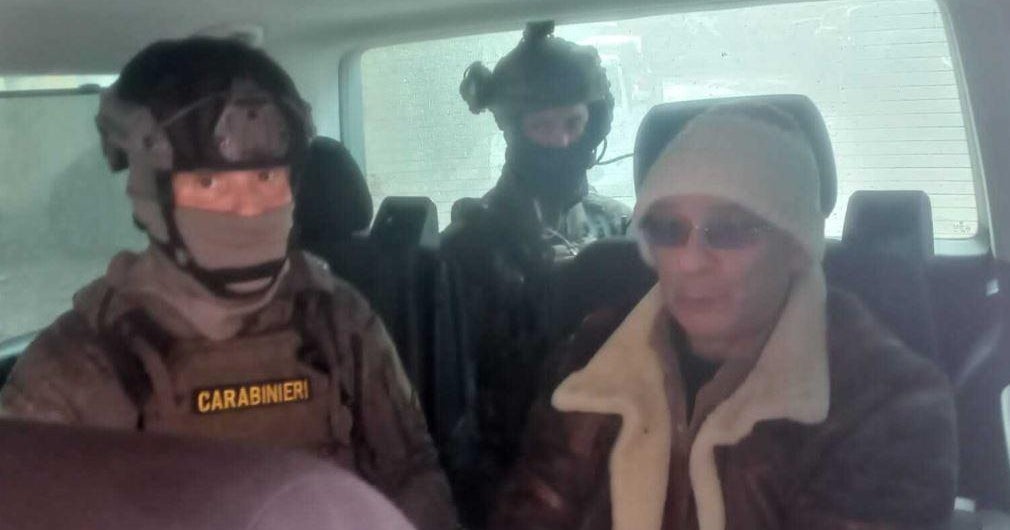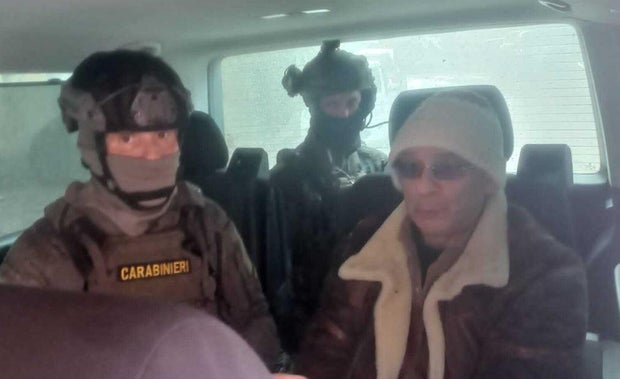 Rome — Italian authorities arrested Italy's most-wanted fugitive on Monday, taking mafia boss Matteo Messina Denaro into custody after a 30-year manhunt. Messina Denaro's arrest brings to a close the era of the "Cosa Nostra" Sicilian crime syndicate depicted in "The Godfather" movies.
The 60-year-old fugitive was caught in a "health facility in Palermo, where he had gone for therapeutic treatment," said special operations commander Pasquale Angelosanto.   
Italian media reported that Messina Denaro was being treated for colon cancer at the private hospital "La Maddalena" for the last year under the false name "Andrea Buonafede." Reports said he did not resist arrest and that he was taken to an undisclosed location by police.
According to eyewitnesses, when passers-by realized that security forces had apprehended the notorious crime figure, people cheered and applauded the police.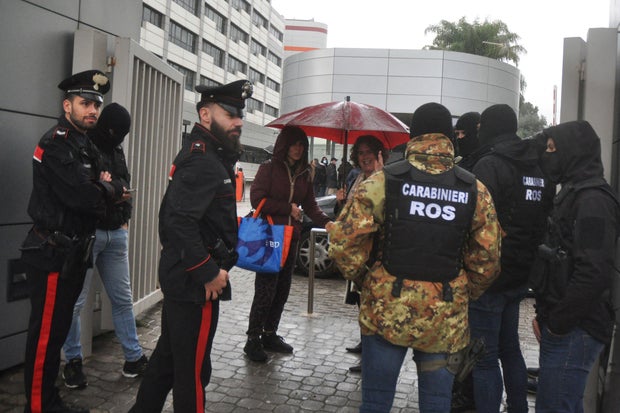 Paramilitary police handout video shows Messina Denaro, dressed in a light brown sheepskin jacket, hat and sunglasses, being escorted by two paramilitary police into a van.  Before that, the only known photo of the fugitive dated back to the early 1990s.
Messina Denaro had been sentenced in absentia to life in prison for the 1992 murders of anti-mafia prosecutors Giovanni Falcone and Paolo Borsellino, whose murders shocked the nation and led to stricter anti-mafia legislation. He was also convicted of dozens of other murders, including that of the young son of a turncoat; the 12-year-old boy was held prisoner for two years before he was strangled and his body dissolved in acid. 
Messina Denaro was considered "Mafia nobility" — the last of three top mafia bosses, the others being the notorious Salvatore "Toto'" Riina and Bernardo Provenzano, both of whom also eluded capture for decades, continuing to live clandestine lives in Sicily.
Riina, the so-called "boss of bosses," was on the run for 23 years before his arrest in 1993. Provenzano spent 38 years as a fugitive and was finally captured in 2006.   
Experts say the mobsters were able to rely on a network of mafia contacts and a code of confidentiality that allowed them to move from hideout to hideout. Messina Denaro and Riina were caught in Palermo, the Sicilian capital, while Provenzano was apprehended in a farmhouse in nearby Corleone. 
Criminology expert Anna Sergi at the University of Essex in England said Messina Denaro was "the last one, the most resilient one, the 'purest' Sicilian mafioso remaining."
"He is the essence of the great historical power of Cosa Nostra," she told the French news agency AFP. "The myths around his period on the run are part of the reason why the mafia myth endures."
Italian Prime Minister Giorgia Meloni hailed the arrest as "a great victory for the state that shows it never gives up in the face of the mafia."
Thanks for reading CBS NEWS.
Create your free account or log in
for more features.