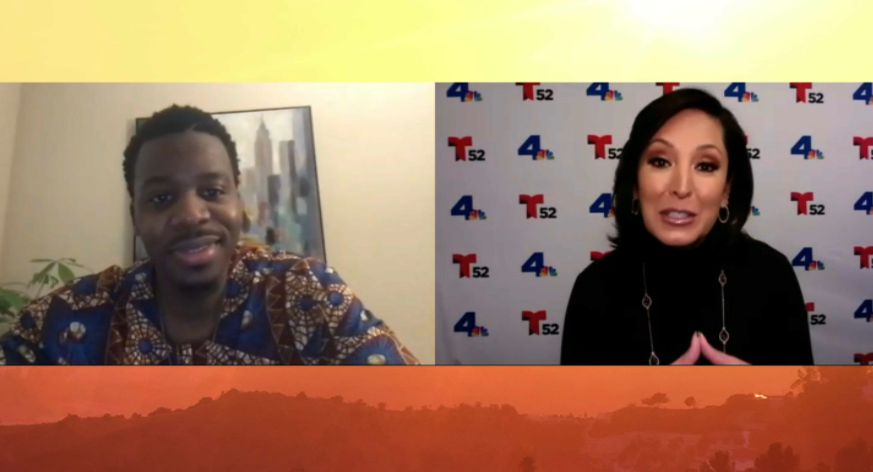 Julien Tshikuna moved to the U.S. from Belgium about a decade ago in pursuit of learning English and starting his career in Hollywood as a standup comedian.
While he was taking steps to build his reputation in LA's entertainment world, the pandemic hit. And just like it did to everyone, Tshikuna's life and career hit an impasse.
"I was in that space, 'What am I going to do now?,'" Tshikuna recalled. "I'm driving an Uber. I have to pay the bills, of course, because Uncle Sam doesn't wait for you."
After asking himself what the best way would be to work and have fun at the same time – and make people laugh, of course – the Echo Park resident got creative.
"I decided to set up a light in his car, bought a microphone, have a special set-up in my car, and go from there," Tshikuna said.
But he doesn't just surprise passengers with booming music and flashing lights. The comedian first tries to "read the room."
"I first want to make sure you're vibing. I try to read the right energy," Tshikuna explained.
But once he feels that a passenger may be on the same page, that's the cue for him to take it to the next level.
"If you were to step into my car, I'd go, 'Ladies and gentlemen, please welcome Lynette Romero. What's up, Lynette? She's coming all the way from LA' Then, boom, boom boom!"
Tshikuna also plays karaoke music, encouraging his passengers to sing. And he frequently takes musical requests from his passengers.
The comedian said instead of creating outrageous content on social media as some Hollywood up-and-comers do, he wanted to focus on making people smile and give riders the best experience possible.
"After the pandemic, we went through so much. I want to give my best to spread out positivity in the best way possible."
Passengers interested in riding with Tshikuna can reach out to him on his website and Instagram.