A rare picture of former heavyweight boxing champion Mike Tyson and MLB legend Rickey Henderson has recently surfaced on social media, drawing strong reactions from both the boxing and baseball communities. The picture, which was shared on Facebook by a baseball page 'baseball In Pics', shows the two sports icons standing side-by-side, with Tyson sporting a wide grin and holding two baseball bats.
The picture has quickly gone viral, with many fans expressing their excitement after seeing the two legends together. Many have praised the picture as a testament to the crossover appeal of both Tyson and Henderson, who are considered among the greatest in their respective sports.
Fans go berserk over the picture
ADVERTISEMENT
Article continues below this ad
Many fans have also pointed out the contrast between the two athletes. Tyson is known for his aggressive and intimidating style. Henderson on the other hand is famous for his speed and agility on the baseball field. Despite their differences, both men are considered among the best in their respective sports and have left a lasting impact on the world of sports.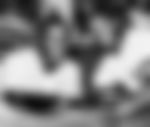 Jim Slevenski rightly commented saying, "one steals bases and the other smashes faces." 
Another fan who is a Henderson fan but not fond of Tyson said, "he was DEFINITELY 85 to 87… bet me.. one of the greatest to swing a bat… or his larceny skills."
P Sutton Miley says, "I figured Iron Mike would be a Mets fan since he's from Brooklyn. That's usually how it goes around here."
Another fan Nick Sasso rightly said that the two men were in their prime age and career phase.
"There is just A LOT of ego in that picture. Not saying they weren't stellar at their crafts … just also stellar at self-aggrandizing as well," wrote one fan.
Scott Kruger said, "Fast hands Fast feet."
ADVERTISEMENT
Article continues below this ad
Mike Tyson and Rickey Henderson in their prime
Mike Tyson, who is widely considered one of the most fearsome boxers of all time, is known for his intimidating presence and powerful punches inside the ring. He held the heavyweight championship for several years and is considered one of the greatest heavyweights in the history of the sport. 
Rickey Henderson, on the other hand, is considered one of the greatest baseball players of all time. He is a 10-time All-Star, a two-time AL MVP, and holds numerous MLB records, including most stolen bases and most runs scored. He was inducted into the Hall of Fame in 2009.
ADVERTISEMENT
Article continues below this ad
Interestingly, Tyson and Henderson played in the same era. The two shared a brilliant relationship among them. Even though they played different games, Tyson and Henderson let nothing separate their friendship. The picture, which is believed to be from the 1980s, has sparked speculation about a potential friendship between the two athletes.
WATCH THIS STORY – Boxing News Round-Up (Jan 17, 2023): Mike Tyson Praises Davis, Chris Eubank Jr. Blasts Out Conor Benn, Jake Paul Responds to KSI and More